Jeffrey Payne, NESA Center
The Chinese state has a perception problem.  Public opinion of China has plummeted within several of its key trading partners due to the Covid-19 pandemic and negative views of China inevitably impact China's economic health and international standing.  To counter negative viewpoints of China, the Chinese Communist Party has engaged in a forceful public diplomacy campaign that includes pushing a narrative of China's strength, highlighting support to foreign countries, and redirecting responsibility regarding the global pandemic's origin.  China's perception challenge (and its response) has become a major news story.  Another story is occurring in the Western Pacific that receives far less attention.  It is the story of China's intensifying actions to gain dominance in the waters of East Asia.  More people should be paying attention to that story, as it reveals a great deal about the Chinese state's intentions and methodology.  Looking to the Pacific provides a more complete picture.
Covid-19 officially became a global pandemic on 11 March.  Since that date, China has engaged in a series of escalatory actions in the waters of the East and South China Seas.  These actions are meant to further advance the People's Republic advantages throughout the Western Pacific.  On 30 March, a Japanese Self Defense Force destroyer was struck by a Chinese-flagged fishing vessel while on routine patrol in the East China Sea.  This took place after a similar incident on 16 March between a Taiwanese coast guard vessel and another Chinese-flagged fishing vessel.  Both incidents are reminiscent of other collisions in the recent past and a tied to a pattern of aggressive close proximity tactics by Chinese flagged commercial vessels against foreign flagged vessels, especially naval and coast guard ships.  Many Chinese small commercial and fishing vessels sailing in the near seas of East Asia are suspected to be affiliated with the Chinese maritime militia.  This militia has existed for some time and is charged with defending China's frontier against foreign hostility, but today this militia is used to enforce China's territorial claims.  This militia is known to shadow foreign-flagged naval and coast guard ships, surround and antagonize any foreign-flagged ship seen as being in violation of Chinese territorial claims, and serve as a secondary information network for the People's Liberation Army Navy (PLAN) and China Coast Guard (CCG).  As a militia force, incidents between "fishing boats" and a foreign vessel are routinely portrayed by the Chinese state as evidence of foreign aggression against a Chinese ship engaged in simple commerce.
The two incidents in March are not the only problems occurring in the near seas of East Asia.  A Chinese survey ship has returned to the territorial waters of Southeast Asian states.  Ocean surveying is a common practice, but it is considered an economic activity and thus prohibited in the exclusive economic zone (EEZ) of other states.  The survey ship's return to Vietnam's EEZ is aggressive, but in accordance with past Chinese actions.  Other Chinese vessels, for either commercial or strategic regions, have disregarded EEZs in the past.
China has amplified the intensity of military exercises in proximity to Taiwan, a reflection of an uptick in tensions in the Taiwan Strait.  US naval vessels and Taiwan's military have increased their own patrols of the area as a result.  Last week, China created two administrative districts in the South China Sea – one for the Paracel Islands (or Xisha within China) and one for the Spratly Islands (or Nansha within China).  Both districts exist within the larger Hainan Province.  China has claimed both the Paracels and Spratlys for years, but this is the first official designation of both as specifically governed parts of the People's Republic. Regardless of China's claims, other regional states claim both the Paracel and Spratly Islands as within their own territories.  This act by China has led to increased tensions, increased patrols by regional states, a greater U.S. presence, and the arrival of an Australian naval vessel.
Is China taking advantage of the global pandemic to further its claims in the East and South China Seas?  Yes, and while a cause for concern, for many other Indo-Pacific actors, it is also not unexpected.  China has steadily escalated pressure in these waters for years.  The events taking place in the Western Pacific are worth noting for those engaging with the Chinese state outside the Western Pacific because it provides important data regarding how China operates its foreign policy.  Policymaker perceptions should be based on a full picture, and one cannot evaluate China without looking to its actions in the Western Pacific.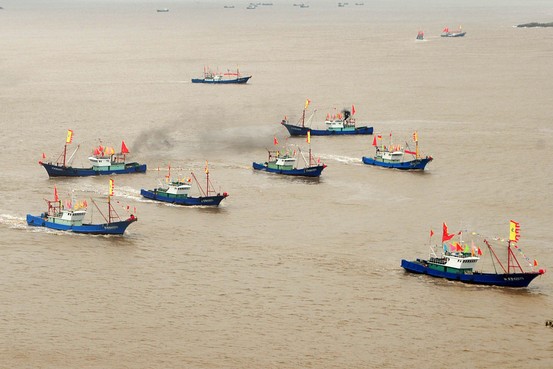 The views presented in this article are those of the speaker or author and do not necessarily represent the views of DoD or its components.