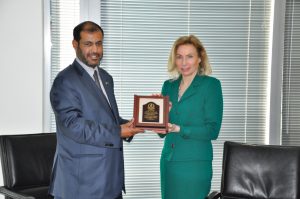 From December 9-11, the NESA Center hosted a delegation of senior program faculty from the Saudi Arabia Armed Forces Command and Staff College for a series of discussions and briefings. The workshop marked a continuation of the NESA Center's longstanding relationship with the Saudi War College, and course director Professor David Des Roches leveraged this experience and longstanding relationship to facilitate targeted conversations including one-on-one office calls between participating Saudi War College faculty and their NDU counterparts, with for example COL Khaled al Khaldi of the War College meeting with NESA Professor Dr. Michael Bell on Theater Strategy. The group also attended an office call with NESA Academic Dean Dr. Roger Kangas, as well as a discussion on the foreign military sales (FMS) process with NESA Deputy Director David Lamm and Dr. Bell. The group additionally received briefings at Marine Corps Base Quantico on military education concepts at the Marine Corps University's Brute Krulak Center for Innovation and Creativity, which supports scholarly research and creative curriculum development in warfighting. Military academics including Dr. Amin Tarz, Director of Middle East Studies at the Brute Krulak Center, provided insights to the group on innovation in military strategy and counterterror.
On their final day in Washington, D.C., the Saudi War College participants attended discussions at the legal and government relations firm Brownstein Hyatt Farber Schreck, LLP, on the American legislative process, and at think tank The Arab Gulf States Institute in Washington on geopolitics of the Middle East, and America's role in the changing region.
NESA's continuing engagements with the Saudi Arabian Armed Forces Command and Staff College strengthen the ability of senior Saudi officers to understand U.S. military approaches to strategic thinking and problem solving, and better prepares them to collaborate in joint, interagency and multinational environments.