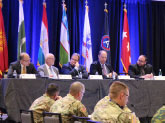 In July and August at National Defense University, the NESA Center conducted three curriculum development workshops for senior program faculty of the Saudi Arabian Armed Forces Command and Staff College. Each workshop focused on one course for one week: Theater Strategy, 22-26 July; Defense Management, 29 July—2 August; and Theory of War, 26-30 August.
These workshops were part of a series of six which began in March and will conclude in September, 2019. While some sessions introduced new material, the majority of the Saudi workshop participants enjoyed the added benefit of being returning NESA alumni, which allowed workshop lectures and case studies to employ and evaluate concepts introduced in previous sessions. The NESA team, led by Professors Daniel Baltrusaitis and Richard Wiersema, leveraged this experience and longstanding relationship to advance the transformation of the Saudi Arabian Armed Forces Command and Staff College into the Saudi Arabian National Defense University. The workshops included standard curriculum development topics such as "Drafting Course Evaluations", "Teaching Methods", and "Drafting Lesson Objectives," as well as topics intended to develop expertise in the subject matter for each course.
NESA's continuing engagements with the Saudi Arabian Armed Forces Command and Staff College function as enablers for the College's capacity to develop and maintain a war college curriculum. These workshops also strengthen the ability of senior Saudi officers to understand U.S. military approaches to strategic thinking and problem solving, and better prepares them to collaborate in joint, interagency and multinational environments.