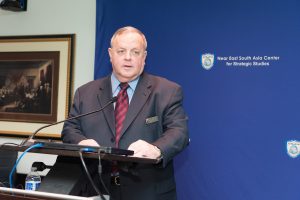 From 2-6 December, NESA Professor Daniel Curfiss led the final NESA Center Senior Executive Seminar (SES) of the 2019 calendar year, "Strategic Leadership in a Changing Global Order". The Senior Executive Seminar is a flagship NESA program geared towards senior policymakers, including general- and flag-level military officers and civilian government leaders (including at the ambassadorial and ministerial levels), with the December 2019 SES convening 46 participants from 26 countries including the U.S. and key defense partners like Egypt, Israel, Jordan, India, Israel, Turkey, Pakistan, and Saudi Arabia.
The seminar brought together NESA faculty, leading subject matter experts on U.S. foreign and defense policy and NESA region geopolitics, as well as military and civil society stakeholders from the NESA region. Lecturers included former Ambassador Marc Grossman ; Georgetown University Professor Michael Brown ; and National Security Council staffers Mr. Christopher Miller and Mr. Rob Greenway, presently serving on the Counterterror and the Mid-East and North Africa desks, respectively. NESA faculty and leadership also provided insights, including Professor Curfiss and LTG (Ret.) Terry Wolff, NESA Director and former Deputy Presidential Envoy to the Global Coalition to Defeat ISIS. Representative discussion topics included the explorations of how cyber and AI are transforming the domain of modern warfighting, the exploitation of social media and critical infrastructure in crises, and countering Iran's nuclear ambitions and its wide range of malign activities.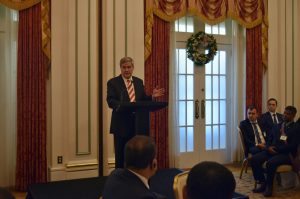 During their time in Washington, D.C., the SES group participated in numerous off-site visits, including a tour of George Washington's Mount Vernon estate, and a welcome lunch at the Army Navy Club, where Professor Curfiss opened with a keynote discussion on topics relating to security cooperation.