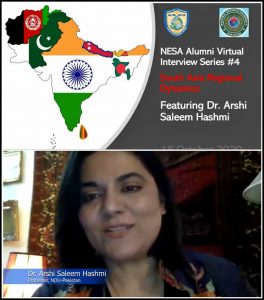 18 October 2020 – In the fourth edition of the NESA Alumni Virtual Interview Series, Fahad Malaikah hosts Dr. Arshi Saleem Hashmi for a discussion on regional dynamics in South Asia, with a focus on Pakistan. Dr. Hashmi answered a broad range of questions, including how current regional dynamics in South Asia should be viewed; how the rise of the Taliban in Afghanistan might impact (if at all) the role and influence of religious political parties in Pakistan; the progress of the China-Pakistan Economic Corridor (CPEC); the prospects for resumption of normal relations between India and Pakistan; and how Pakistan is preparing for a potential Biden presidential administration or a Trump second term.
Dr. Arshi Saleem Hashmi is a Professor and Head of the Department of Peace and Conflict Studies at the National Defence University, Islamabad.
The views presented in this article are those of the speaker or author and do not necessarily represent the views of DoD or its components.