Dr. Gawdat Bahgat, NESA Center, 30 March 2020
The Coronavirus has been proven to be one of the worst catastrophic experiences the world has seen in recent times, having spread to almost every country. People from different socio-economic backgrounds, religious, ethnic and sectarian groups have been infected. It is too soon to try to draw lessons from this horrible experience. The NESA region (Middle East, North Africa, South and Central Asia) unfortunately is the scene of some of the most intense millennia-old hostilities, including Muslim-Christian, Shiite-Sunni, Arab-Kurdish, Arab-Israeli, Muslim-Hindu, Turkey-Armenia, Nagorno-Karabakh conflict (among many others).
From its inception in 2000, the NESA Center has worked tirelessly to overcome such conflicts. Fundamentally, the NESA Center mission is to bring people together, to find common ground, engage in dialogue, establish channels of communication and address differences. Since the beginning of the Coronavirus saga, every government has tried to protect its citizens. The virus, however, does not recognize borders. President Trump correctly called it "the invisible enemy." The experience of the last several weeks leaves no doubt that we are all victims of the Coronavirus and we need to work together to defeat it and, bluntly, to survive. Infected people in Iran have and will continue to pass the virus to their neighbors. Infected Palestinians in Gaza and the West Bank will pass the virus to Israelis and Egyptians. Travel bans, walls and fences are not likely to stop or slow the infection. Rather, collective action and cooperation between neighboring nations is likely to be more effective.
Disagreements between peoples and nations are part of human nature. Since the beginning of civilizations nation-states have gone to war against each other driven by the desire to control economic resources, hegemonic aspirations, nationalistic supremacy and ethnic and sectarian differences. What the short, but horrific, experience with the Coronavirus teaches us is that despite our differences, we need to learn how to live together and work together. People all over the NESA region (and indeed all over the world) will always have opposing interests and conflicting values. They do not need to agree with each other; do not even need to like each other. BUT, the lesson from Coronavirus is that they have to find a way to accept each other. The picture from Israel of these two emergency medical technicians, a Jew and a Muslim, praying one facing Jerusalem and the other facing Mecca speaks volumes. They work together to save lives. They took a short break to pray and then went back to save more lives. Human cooperation is the way to defeat the Coronavirus – the invisible enemy, and indeed to defeat all enemies.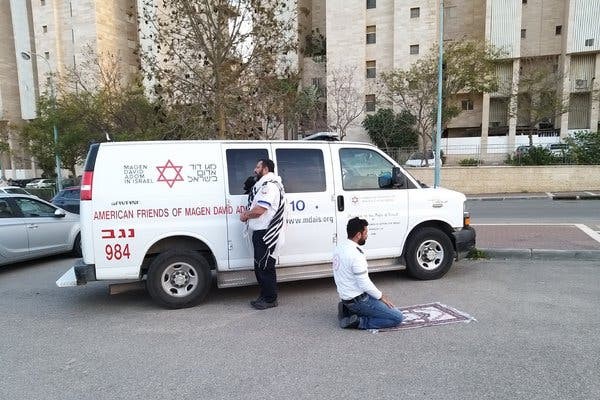 The views presented in this article are those of the speaker or author and do not necessarily represent the views of DoD or its components.