From 14-18 November 2021, the NESA Center for Strategic Studies hosted a hybrid seminar organized in collaboration with the UAE Ministry of Interior titled "Community Oriented Policing and Countering Violent Extremism" in Abu Dhabi, UAE. The workshop was designed to help participants evaluate and analyze the nature and dynamics of major community policing challenges, especially in the realm of violent extremism, and deliberate on building counter-narratives to extremism.
Major General Khalifa Hareb Al Khaili (Undersecretary of the Ministry of Interior) kicked off the seminar proceedings with his remarks followed by welcome remarks from NESA Center Academic Dean Dr. Roger Kangas and Course Director and NESA Center Distinguished Professor of International Relations Dr. Hassan Abbas. The eight sessions focused on the scope and dynamics of community policing, dynamics and strategies of countering violent extremism, best practices, and what is to be done. Each day began with a panel presentation from a multinational panel of experts analyzing the nature of the challenges and a guided presentation with the entire group. In the second part of the day, participants focused on the practitioner's perspectives on problem-solving analytical tools. On the final day, participants worked in smaller groups to apply the knowledge and analytical skills gained to countering violent extremism in the region. The hybrid seminar was attended in person by participants from 11 countries, including Bahrain, Egypt, Iraq, Jordan, Pakistan, Maldives, Nepal, Saudi Arabia, Sri Lanka, UAE, and Singapore (virtually).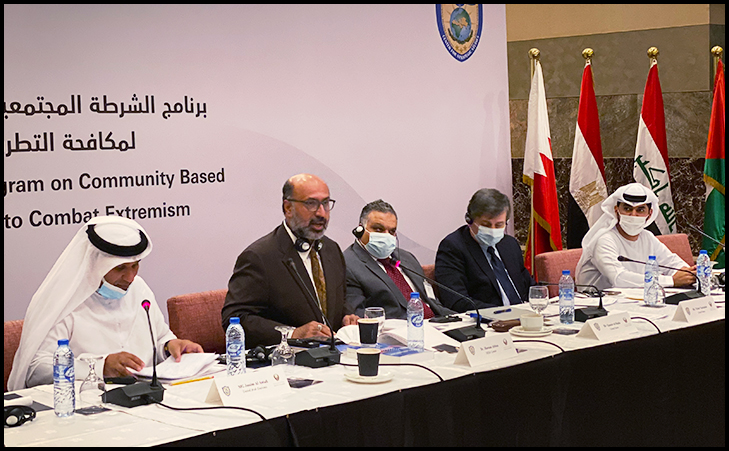 The views presented in this article are those of the speaker or author and do not necessarily represent the views of DoD or its components.