February 1-11, 2021 – Dr. Gawdat Bahgat led the Near East South Asia Center for Strategic Studies Executive Seminar on Global Power Competition (GPC). More than 80 foreign service and military officers from the United States and 26 other countries participated in the virtual seminar. To address this complex topic, the NESA Center brought in speakers from a multitude of backgrounds, ranging from think tanks to bureaucratic agencies to military, to discuss the topic of "Development in a Period of Great Power Competition" in a Senior Executive Seminar (SES). This SES was led by Dr. Gawdat Bahgat with Dr. Michael Sharnoff and Jeffrey Payne acting as program facilitators.
Session topics included economic aid, finance, human security, military, hard vs. soft power, cyber security, drones, missiles, Afghanistan, and artificial intelligence in relation to Great Power Competition. Sessions compared the implications of economic aid by the Chinese government with American grant-based aid, which leaves the country with no outstanding debts, but can at times be insufficient. The Chinese offer loan-based aid, which requires repayment with interest. Also discussed were ongoing human rights violations committed by the Chinese Communist Party, namely the crisis of the Uighur concentration camps in the region of Xinjiang, repressive tactics in Hong Kong, and suppression of various religious minorities. Suggested policy responses for the US government included pressing for greater cooperation among American allies to collectively institute measures against Chinese human rights violations, in addition to the US establishing itself as a safe haven for Uighur and other oppressed minorities who manage to flee from China. That President Biden has extensive experience managing foreign affairs, due attention will likely be given to foreign matters, such as the conflict in Afghanistan, and the countering of Chinese and Russian attacks on American intellectual property and cyber security. The US' relationship with Iran is likely to morph, especially if the US attempts to return to the Joint Comprehensive Plan of Action (JCPOA) negotiating table.
A joint session Washington Seminar (and the Executive Seminar) was held on the last day where foreign diplomats in Washington, DC joined the other participants. Two senior former U.S. diplomats spoke on United States foreign policy under the Biden Administration. The virtual seminar provided a well-rounded, varied range of insights into the many factors that shape the global positionality of global powers such as the U.S., China, and Russia. Participants were given the chance to connect via a coffee hour held prior to each session day. Three language rooms – English, Arabic, and French – were provided to facilitate discussion amongst all participants. Speakers were able to conduct live Q&A sessions and directly answer questions from participants.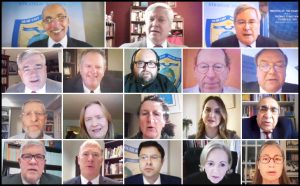 The views presented in this article are those of the speaker or author and do not necessarily represent the views of DoD or its components.