**The NESA Center is currently accepting applications for Summer 2020 internships. The deadline to apply is Friday April 3rd.**
To apply, send your resume, cover letter, and writing sample (1-3 pages) to Mr. Sam Marrero at Samuel.Marrero@ndu.edu. The NESA Center reviews internship applications on a rolling basis, so interested applicants are encouraged to apply early. NESA internships are unpaid.
---
NESA Interns Spring 2020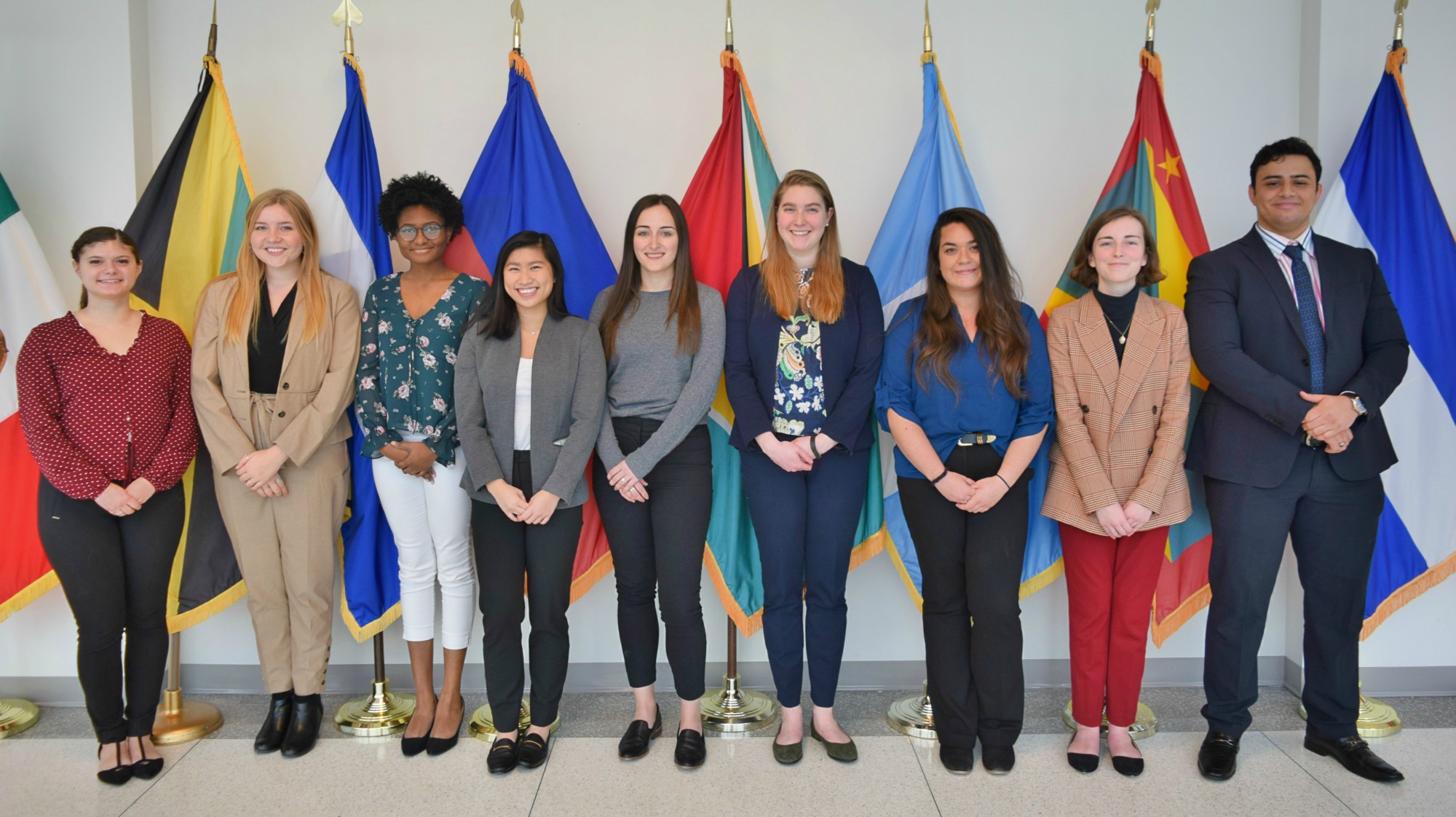 Intern Biographies are listed according to the photo above from left to right.
Katie Commerford is a second semester Senior at Worcester State University of Worcester, Massachusetts. She will be graduating in May 2020 with a Bachelor's Degree in both English with a concentration in Writing and Political Science with a focus in Public Policy. Katie is joining NESA through the Washington Center Spring 2020 program and completing a leadership program within D.C. lobbying Congress. At her university, Katie has remained within the top of her graduating class and has been inducted into numerous honor societies including Sigma Tau Delta, Phi Eta Sigma, and the WSU Commonwealth Honors Program. She is passionate about human rights within the political world and is pursuing a career in the human rights/public policy area of modern day politics. While at NESA, Katie aims to gain more experience in the area of peace efforts and international relations.
Hannah Schilling is a Junior at James Madison University majoring in International Affairs and pursuing minors in the Arabic language and Middle Eastern Communities and Migrations. She focuses on human rights and migration issues in the Middle East, and the impact of global actors on the conflicts faced by this region. In the summer of 2019, Hannah lived in Amman, Jordan and continued her Arabic education with the Council on International Educational Exchange. This past fall, she spent the semester at Oxford University studying International Human Rights Law and Middle Eastern Politics. While at the NESA Center, Hannah is eager to learn more about the impacts of U.S. defense policies on the NESA region, and the strategies that may be employed to strengthen U.S.–Middle East relations.
Vanessa Rogers-Wright is a Junior at the University of Central Arkansas majoring in international studies concentrating on international politics and diplomacy with a focus on Chinese. While her major focuses on Chinese, she also studies Korean independently and has studied abroad in Seoul, South Korea with the National Security Language Initiative for Youth. Her passions include nuclear proliferation, humanitarian law, and U.S. foreign relations. By dedicating this semester to the NESA center, she hopes to gain insight on forming security strategy, evaluating foreign policy, and relations between U.S. and countries within the NESA region. Through gaining this insight she hopes to further develop her own personal research concerning global nuclear warhead disarmament.
Liz Westbrook is a Junior at Loyola Marymount University in Los Angeles, majoring in Political Science and minoring in Peace and Justice Studies. She grew up in Shanghai and Singapore, which sparked her passion for international politics in non-Western regions. Liz joins the NESA Center after completing an internship with the World Affairs Council of Houston, where she learned about Houston's unique place in international affairs. She also had the opportunity to discuss current events with leading foreign affairs experts and politicians through the World Affairs Council's events. During her internship at the NESA Center, Liz is excited to develop her subject matter expertise in Middle East and Northern African Politics. Liz hopes the skills she will gain from her NESA internship will contribute to her career goal of becoming a diplomat.
Kathryn Halloran is a graduate student at The George Washington University Elliott School of International Affairs pursuing a master's degree in Middle East Studies with a concentration in transnational security. She earned a bachelor's degree at Villanova University, majoring in Political Science and Arab and Islamic Studies. Kathryn's academic interests are focused on the Syrian civil war, and she has conducted field research in Jordan on the security nexus between Syrian refugees and the host state. She has returned to the region several times for Arabic language study, and is currently researching the security situation in Syria as it affects refugee-repatriation decisions. Kathryn looks forward to gaining hands-on experience at NESA that directly relates to her security interests and academic pursuits.
Avery Judd is a Junior at University of New Hampshire, completing a dual major in Political Science and International Affairs with a focus in Middle Eastern Studies.  In addition to studying Arabic language, she is fluent in French.  Avery has been an active member of the UNH Model United Nations team since her freshman year, participating in multiple national conferences, as well as being named head delegate for the 2019 international conference in Erfurt, Germany. She also recently served as the organization's treasurer.  Avery has a strong interest in Middle East relationships within the region as well as globally and looks forward to increasing her knowledge about how the use of diplomacy and defense policies can impact these relationships.
Abigail Champeau is a graduate student at Syracuse University's Maxwell School of Citizenship pursuing an M.A. in International Relations with a regional focus on the Middle East and North Africa and topical concentrations on foreign policy and security. Abigail's studies and professional ventures have been driven by an appreciation for the rich and diverse history of the Middle East, as well as its complex geopolitical landscape. She has previously served as an intern at the U.S. Department of State, allowing her the opportunity to conduct in depth research regarding human rights abuses occurring across the MENA region. In addition, throughout her studies, Abigail has completed academic programs at both the Interdisciplinary Center in Herzliya, Israel and at Al Akhawayn University in Ifrane, Morocco. While at NESA, Abigail hopes to further her understanding of U.S. security strategy as it pertains to the greater Middle East.
Julie Mancini is a rising Senior at Dickinson College majoring in Japanese and International Studies with a concentration in Globalization. She previously attended Nanzan University in Nagoya, Japan where she studied the Japanese language and comparative policy. Julie is particularly passionate of the connections between East Asian nations and the Middle East and how they influence one another. Over the course of her sophomore year, Julie worked for the East Asian Studies Department of her college. In this work, she assisted professors with academic research and developed educational seminars for her school. Julie hopes to gain a deeper understanding of foreign diplomacy and Middle Eastern relations with the U.S. during her time at the NESA Center.
Ibrahim Abbadi is a senior Political Science major at Augustana College, focusing on African Geopolitics, International Relations, and Counter Violent Extremism in the MENA region. In 2019, Ibrahim presented his paper entitled "Globalization and Technology: The Petri dish for a New Geopolitical Reality (new-age terrorism in the Sahel)" in the National Conference for Undergraduate Research. He joins the NESA center having acquired professional experience through internships in his home country of Morocco. Among the institutions at which he has interned are the Policy Center for the New South and the Interfaith Peacebuilding Research and Training Centre in Rabat Morocco. During his internship Ibrahim hopes to gain a more comprehensive understanding of the complex state of affairs in the NESA region and how sustainable solutions are developed.
---
Reflections from Past Interns
"Through NESA, I was able to develop professional skills alongside experts from across the globe. The flexibility NESA offers in developing my own research with guidance from Faculty allowed me to develop skills crucial for my career path. NESA is filled with opportunities that prepare students for the workforce."

-Arwa Mokdad, University of Washington, Fall 2019 intern
"NESA did not only give me the opportunity to see, listen and learn from experts in their fields, it also gave me the possibility to interact: Interact with promising military officials from the NESA region. NESA also helped me pursuing my future goals and putting me in contact with people in the field from my home country, Belgium."

-Kirsten Devlieger, Free University of Brussels, Fall 2018 intern
"The NESA Center offered opportunities to which I'd never imagined I'd have access as a student. Not only was I able to take notes and learn from participant programs, but I engaged with participants and even observe high level policy meetings. Very few internships could have offered me the same opportunities as the NESA Center."

-Chris Atmajian, California State University Northridge, Spring 2018 intern
"What was different than other internships was being able to develop our own research interests and getting to interact with participants from the region. That was an incredible experience. As someone who also interned on the Hill, the biggest difference was that NESA helped me professionally develop and expand my network in an area in which I'm interested in working."

-Matt Mueller, James Madison University, Summer 2017 intern
---
ABOUT THE INTERNSHIP:
The NESA Center's internship program is an opportunity for highly motivated undergraduate and graduate students to gain professional skills and subject matter development on foreign policy and national security issues associated with the Near East and South Asia region.
NESA interns are expected to employ competent research, writing, and communications skills in support of NESA faculty research and programs. NESA interns receive access to the National Defense University library and research resources to support research work. NESA interns participate in conferences, workshops, and other programs at the National Defense University featuring academics, subject matter experts, military officers, and diplomats. NESA interns also receive development opportunities throughout the Washington, D.C. area, accompanying faculty and participants on site visits to places like Capitol Hill, the Pentagon, and the State Department.
Interns are encouraged to pursue publication opportunities under the guidance of, or in partnership with, NESA Faculty. NESA complies with the National Defense University's Memorandum on Academic Integrity regarding plagiarism and academic dishonesty. That memorandum can be found here.
The NESA Center internship is unpaid, and the NESA Center does not provide or assist interns in finding housing accommodations. If you are without housing accommodation, or your home institution or Washington DC area supporting institution does not provide housing accommodation, then interested applicants are encouraged to search listings online or reach out to Washington Intern Student Housing.
PRIMARY DUTIES:
Assist NESA Center faculty and staff with long- and short-term research projects related to the NESA region.
NESA programs support: note-taking, course material preparation and logistical support.
REQUIRED SKILLS:
A demonstrated interest in International Affairs, Defense, Security Studies, and the NESA Region.
Detail oriented, highly organized, and able to work independently or in teams.
Strong written and verbal communication skills.
Foreign Language skills a plus: particularly Arabic, French, Russian, Farsi, Urdu, Pashto, Dari.
Interested applicants must be enrolled in a degree-granting university program (undergraduate or graduate).