**The NESA Center is currently accepting applications for Spring 2020 internships. The deadline to apply is Friday November 22nd.**
To apply, send your resume, cover letter, and writing sample (1-3 pages) to Mr. Sam Marrero at Samuel.Marrero@ndu.edu. The NESA Center reviews internship applications on a rolling basis, so interested applicants are encouraged to apply early. NESA internships are unpaid.
---
NESA Interns Fall 2019
Intern Biographies below are listed according to the photo above from left to right.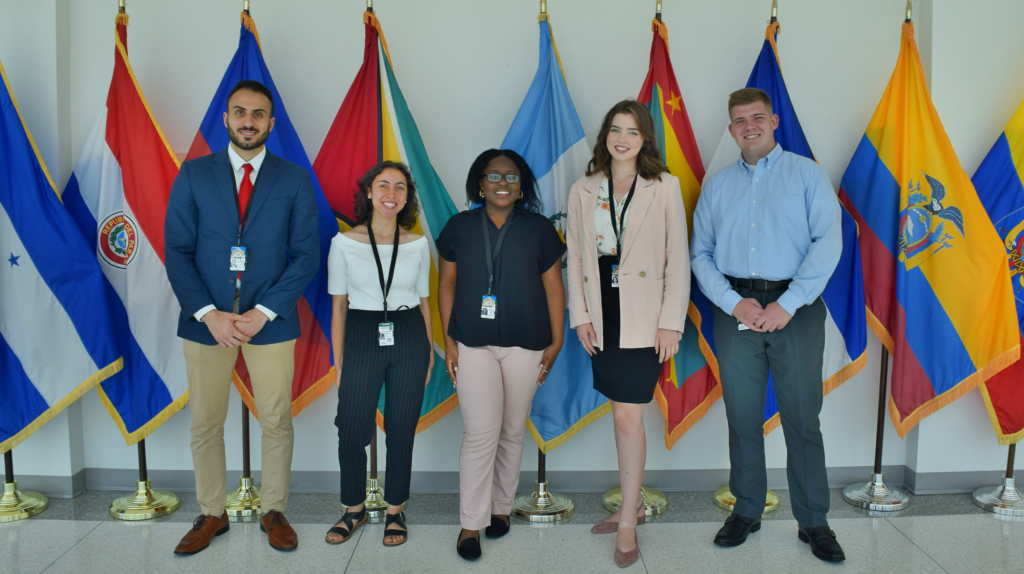 Muhammad AlSahlani is a Senior at Gannon University majoring in International Studies and Political Science with a focus in Middle East and American relations as well as human rights policies throughout the MENA region. He joins the NESA Center after completing a study abroad term at the European School of Political Science in Lille, France where he studied the French language and compared European IR and government to that of American IR and government. He also recently completed an internship with the U.S. Committee for Refugees and Immigrants in Erie, PA where he was able to take a broader understanding of the refugee process and get inside access to how American foreign policy has played its effect with it over the years. Muhammad is eager to learn about NESA country relationships with the U.S. and how they can be strengthened through diplomacy in order to achieve lasting peace and international security.
Arwa Mokdad is a rising sophomore at the University of Washington. She is majoring in Near Eastern Languages and Civilizations and International Studies with a focus on International Human Rights. She is joining NESA after completing an advanced Arabic course at the American University of Beirut. While in Lebanon, Arwa volunteered with Project AMENAH which provides skills to adolescent Syrian refugees to lessen the risk of child marriages. At her university, Arwa has served as the Lead Intern of the Middle Eastern Student Commission. Arwa has focused her studies on foreign policy as it pertains to the Arab gulf. She is passionate about peace efforts and U.S.-Arab relations in the MENA region. While at NESA, Arwa hopes to gain deeper insight into diplomacy and effective policy.
Chiemela Anyanwu is a rising junior at Temple University majoring in Global Studies and Political Science. Chiemela has lived in Nigeria and is passionate about immigration in the United States and its relationship to national security. Chiemela is a member of the Global Studies Society which is an organization that convenes fields of study surrounding global security, economy, and culture. Last Spring she served as a panelist at the Global Temple Conference, where she presented her work on the economic and security issues about electronic waste in Ghana. During her internship at the NESA Center, Chiemela is excited to learn about global diplomacy and how U.S. defense policies impact North Africa and the Middle East.
Mary Rose Stark, a native of Southern Nevada, is a junior at Roanoke College majoring in Political Science and International Relations with a concentration in Middle East Studies. She was previously the head delegate for the Roanoke College Model United Nations and Model Arab League teams, leading the team to its most successful conference performances to date. She has also spoken about United Nations Sustainable Development Goals at the United Nations General Assembly in New York. This summer Mary Rose spent three weeks living in Israel and studying political conflict and cooperation in Israel and Palestine. While interning at NESA, Mary Rose looks forward to studying US relations with states in the NESA AOR and hopes to live and work in the region in the future.
Ryan Campbell is a graduating senior at the University of Georgia majoring in International Affairs with an emphasis in Security. He has spent his undergraduate career studying Conflict and Counter Insurgency in the Middle East and South Asia. He has spent time overseas in Sri Lanka training Army cadets on Western military tactics and their applications in Sri Lanka. He was also able to work with senior military officials to find out what strategies they had local success with. During this semester at the NESA Center, Ryan is looking forward to learning strategies to mitigate the risk of lasting conflict, ensuring sustainable peace, and creating important diplomatic ties.
---
Reflections from Past Interns
"NESA did not only give me the opportunity to see, listen and learn from experts in their fields, it also gave me the possibility to interact: Interact with promising military officials from the NESA region. NESA also helped me pursuing my future goals and putting me in contact with people in the field from my home country, Belgium."

-Kirsten Devlieger, Free University of Brussels
"The NESA Center offered opportunities to which I'd never imagined I'd have access as a student. Not only was I able to take notes and learn from participant programs, but I engaged with participants and even observe high level policy meetings. Very few internships could have offered me the same opportunities as the NESA Center."

-Chris Atmajian, California State University Northridge, Spring 2018 intern
"What was different than other internships was being able to develop our own research interests and getting to interact with participants from the region. That was an incredible experience. As someone who also interned on the Hill, the biggest difference was that NESA helped me professionally develop and expand my network in an area in which I'm interested in working."

-Matt Mueller, James Madison University, Summer 2017 intern
---
ABOUT THE INTERNSHIP:
The NESA Center's internship program is an opportunity for highly motivated undergraduate and graduate students to gain professional skills and subject matter development on foreign policy and national security issues associated with the Near East and South Asia region.
NESA interns are expected to employ competent research, writing, and communications skills in support of NESA faculty research and programs. NESA interns receive access to the National Defense University library and research resources to support research work. NESA interns participate in conferences, workshops, and other programs at the National Defense University featuring academics, subject matter experts, military officers, and diplomats. NESA interns also receive development opportunities throughout the Washington, D.C. area, accompanying faculty and participants on site visits to places like Capitol Hill, the Pentagon, and the State Department.
Interns are encouraged to pursue publication opportunities under the guidance of, or in partnership with, NESA Faculty. NESA complies with the National Defense University's Memorandum on Academic Integrity regarding plagiarism and academic dishonesty. That memorandum can be found here.
The NESA Center internship is unpaid, and the NESA Center does not provide or assist interns in finding housing accommodations. If you are without housing accommodation, or your home institution or Washington DC area supporting institution does not provide housing accommodation, then interested applicants are encouraged to search listings online or reach out to Washington Intern Student Housing.
PRIMARY DUTIES:
Assist NESA Center faculty and staff with long- and short-term research projects related to the NESA region.
NESA programs support: note-taking, course material preparation and logistical support.
REQUIRED SKILLS:
A demonstrated interest in International Affairs, Defense, Security Studies, and the NESA Region.
Detail oriented, highly organized, and able to work independently or in teams.
Strong written and verbal communication skills.
Foreign Language skills a plus: particularly Arabic, French, Russian, Farsi, Urdu, Pashto, Dari.
Interested applicants must be enrolled in a degree-granting university program (undergraduate or graduate).