From 28 to 30 June 2021, the Near East South Asia (NESA) Center for Strategic Studies hosted an event as part of its Indian Ocean Region focused series of engagements.  This event centered on exploring strategic competition and its impact throughout the larger Western Indian Ocean Region. Specific themes of the event included the regional competition, global strategic competition, and non-traditional security challenges, illicit networks, climate change, and maritime security. The participants also provided key insights into methodologies by which to enhance regional cooperation.
This workshop is the second iteration of a joint strategic series with its sister center, the Daniel K. Inouye Asia Pacific Center for Security Studies (DKI APCSS). The first iteration was hosted by DKI APCSS in December 2020, which chiefly focused on the eastern half of the Indian Ocean Rim. The second iteration, together with the first event in December of 2020, provides a holistic analysis of the entire Indian Ocean Rim and various factors that inform the larger concept of the Indo-Pacific.
The event had over 60 participants representing 17 different nation states from both within and outside the Indian Ocean Region. NESA Director, LTG (ret) Terry Wolff, and DKI APCSS Director, RADM (ret) Pete Gumataotao, kicked off the event.  The course directors for this event were Dr. Hassan Abbas of NESA, Mr. Jeff Payne of NESA, Professor Wade Turvold of DKI APCSS, and Dr. Srini Sitaraman of DKI APCSS.
Read the Strategic Competition in the Indian Ocean Region Workshop (Part II) Final Report [PDF]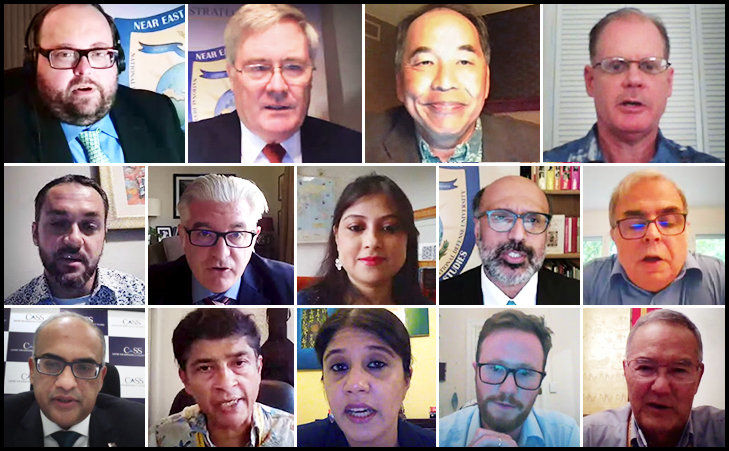 The views presented in this article are those of the speaker or author and do not necessarily represent the views of DoD or its components.