06 April 2021– NESA Center faculty met with present members of policing agencies and governmental agencies to discuss community-oriented policing (COP) and its applicability of countering violent extremism (CVE).
The event was led by Dr. Hassan Abbas (Distinguished Professor of International Relations) with the first discussion focusing on the modern policing challenges faced in today's societies. Mr. Arif Alikhan (Former Director of Constitutional Policing and Policy, Los Angeles Police Department) and Mr. Victor Vartanian (Former Special Agent, U.S. Immigration and Customs Enforcement) discussed that community policing, when implemented correctly, can bring about successful results to local collaboration and countering violent extremism at home and abroad. The questions from audience members discussed the impact of local cooperation, the criticisms of community policing, the impact of the militarization of police, and the challenges that Covid-19 brought to community policing.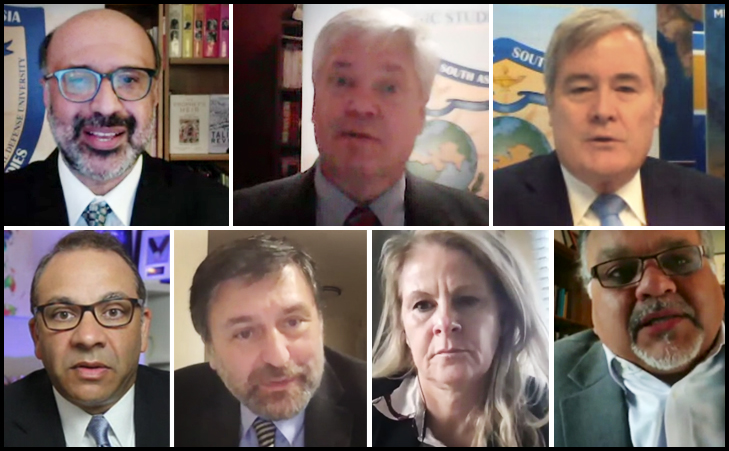 The second discussion focused on the capacity building of countering violent extremist policies. Dr. Nadia Gerspacher (Senior Subject Expert and Former Director, Security Sector Education at United States Institute for Peace) discussed the factors that could lead people toward violent extremism and how police can learn from these to adopt a community-based approach in policing. Dr. Qamar-ul Huda (Non-Resident Senior Fellow, The Atlantic Council) discussed the grievances and questions that get brought up when implementing community-based programs in policing and the ways around consistent problems.
This introductory meeting focused on defining the parameters of the CVE and policing challenges, and specifically on modern policing dynamics and state of the CVE efforts globally. The second part of this seminar will continue later this year where a multi-national panel of experts will present with a guided discussion with the entire group.
The views presented in this article are those of the speaker or author and do not necessarily represent the views of DoD or its components.