29 March – 2 April 2021 – NESA hosted a timely Senior Executive Seminar (SES) focused on the continued threat of violent extremist organizations (VEOs), particularly their use of new media platforms, as well as best practices to combat violent extremism in the virtual and non-virtual space. The SES welcomed more than 50 foreign service and military officers from the United States and 23 other countries that participated in the seminar. To address the evolving issue of VEOs, the NESA Center brought in speakers from a wide array of backgrounds, including representatives from think tanks, academic institutions, and foreign governments, to discuss the topic of "The Adaptability of Violent Extremist Organizations: Illegality, Technology and Messaging." The SES was led by Dr. Hassan Abbas (Distinguished Professor of International Relations), along with Dr. Michael Sharnoff, and Ambassador Ali Jalali acting as program facilitators.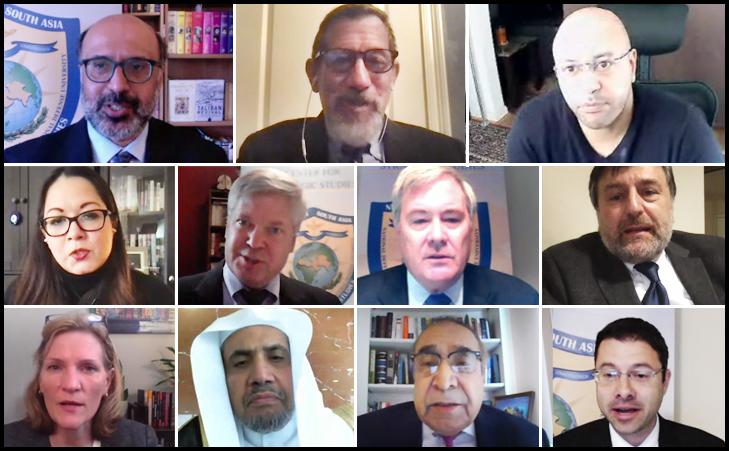 Sessions covered a range of topics to provide a holistic and comprehensive understanding of how VEOs operate and recruit, as well as the core pillars of society and religious ideology they seek to actively exploit in the NESA region, and beyond. Notable insights offered by speakers during the SES included the resilient and adaptable nature of VEOs, innovative recruitment strategies and techniques, and the formulation of effective counternarratives to extremism. Other topics explored the role of law enforcement in terms of combatting extremists, the extent to which the cyber realm has played a part in aiding violent extremist organizations, violent extremist organizations in Central Asia, extremist disengagement and reconciliation as a solution to rehabilitating former combatants of extremist organizations, and the role of Da'esh (ISIS) and Al-Qaeda in today's context of violent extremist organizations. Through both a technical and methodological lens, key sessions also provided informative country case studies that shed light on different government responses and challenges in combating the different dimensions of violent extremism. Case study highlights from the seminar included a comparative analysis of the role that law enforcement and civil society organizations can play in preventative radicalization efforts, as well as country specific counter-extremism model exemplified in the case of the Muslim World League based in Saudi Arabia.
During the SES, participants were able to offer their own perspectives and recommendations for how to address the threat of VEOs. At the conclusion of each presentation, participants were also given the chance to ask questions and engage in dialogue with the speakers. Three language rooms – English, Arabic, and Russian- were provided to facilitate discussion amongst all participants. The SES provided a vibrant forum for an in-depth and open discussion and gathered valuable insights for practitioners, military, and foreign officials alike. Guest lecturers included Dr. Bruce Hoffman from Georgetown University, Dr. Joseph Shaheen from ORISE and Intelligence Community Fellow in residence at George Mason University, Mr. Victor Vartanian, former special agent from the U.S. Immigration and Customs Enforcement, Ms. Naureen Chowdhoury Fink from The Soufan Center, Professor Cynthia Miller-Idriss from American University, H.E. Sheikh Dr. Mohammad bin AbdulKarim Al-ISSA from the World Muslim League, and Dr. Leanne Erdberg Steadman from USIP. NESA members included Director LTG (Ret.) Terry Wolff and Academic Dean Dr. Roger Kangas.
The views presented in this article are those of the speaker or author and do not necessarily represent the views of DoD or its components.