On 09 September 2021, NESA and AFRICOM, in partnership with WJPC, GCMC, and IEMed, conducted a Counterfeiting and Migration Workshop as part of its virtual Transnational Threats Series.
The Series began with a Transnational Threats Workshop held online on 28 January 2021 laying out broad concepts that impact all three Regional Center areas of focus. A second workshop on migration was conducted on 24-25 May 2021. The overarching philosophy was to allow topics and issues for future sessions to be driven by feedback and engagement discussions with participants from the region. The participant pool was drawn from all three Regional Centers covering Central/Latin America, North Africa, the Levant, and Europe.
Based on feedback from participants, the third virtual workshop held on 09 September provided a very streamlined and focused agenda on counterfeiting/migration security challenges increasingly shared across transoceanic regions. It included two panels that addressed migration and criminal organizations and counterfeiting supporting illegal migration.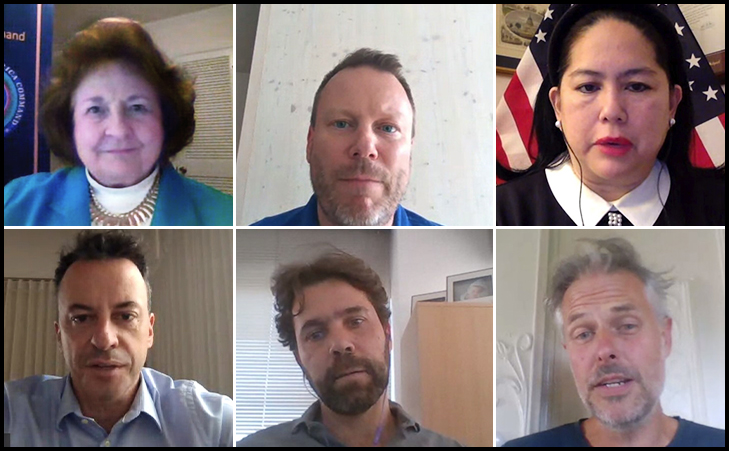 During the first panel on Migration and Criminal Organizations, Professor Joris van Wijk of Vrije Universiteit Amsterdam discussed the prosecution of smugglers and migrants.
On the second panel focused on Counterfeiting Supporting Illegal Migration, Professor Guilherme Damasceno of PUC Minas University (Brazil) presented on the crossover of criminal networks between human smuggling and document counterfeiting; while Mr. Christian Vianna de Azevedo, Supervisory Special Agent, Brazilian Federal Police, presented various case studies involving illegal immigration and terrorism.
Professors Anne Moisan from NESA and Celina Realuyo from the WJPC moderated the program. Dr. Benjamin Nickels from GCMC attended along with NESA's Dr. Michael Sharnoff, as well as 14 participants from Central/Latin America, the Levant, North Africa, and Europe. Mr. Fahad Malaikah provided all technical support.
The views presented in this article are those of the speaker or author and do not necessarily represent the views of DoD or its components.