From 6–17 December 2021 – the Near East South Asia Center for Strategic Studies (NESA Center) conducted an Executive Seminar on "New and Emerging Security Challenges." Leading academics and practitioners presented on a variety of non-traditional security threats, including climate change, pandemics, cyber security, human trafficking, migration, and non-state actors.
Course Director NESA Center Distinguished Professor Dr. Hassan Abbas welcomed the group and started off the seminar, followed by NESA Center Academic Dean Dr. Roger Kangas and NESA Center Director LTG Terry A. Wolff, USA (Ret.). Discussions were moderated by NESA faculty members Dr. Hassan Abbas, Dr. Michael Sharnoff, Anne Moisan, and David Des Roches.
The seminar consisted of 17 interactive sessions where NESA Center experts, as well as several external experts, were invited to discuss and engage with seminar participants in a virtual environment. Topics discussed included conceptual framework of non-traditional threats, environment, and demographic issues, readiness to deal with future pandemics, use of drones by non-state actors, disinformation campaigns, artificial intelligence, cyber security, the evolving nature of new and emerging security challenges, a variety of strategies to address these threats, and shared best practices based on their related professional experiences.
A faculty-guided discussion concluded the seminar, which focused on the nexus of non-traditional security threats and the role multilateral cooperation, education, and how technology can play in addressing such threats. Around 60 participants from 23 countries participated in the two-week seminar.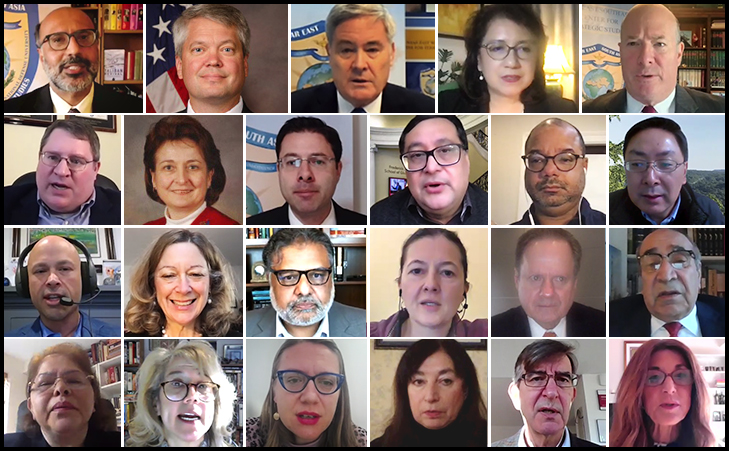 The views presented in this article are those of the speaker or author and do not necessarily represent the views of DoD or its components.