On 30 September 2021, NESA Professors Dr. Michael Bell and Charles Marks delivered the preliminary design to transform the Saudi Armed Forces Command and Staff College into the Saudi Arabian National Defense University. The NESA team presented the details of the design to our partners at the Command and Staff College and the Saudi Ministry of Defense's Transformation Management Office. The NESA team, which includes 19 NESA civilian and military staff and faculty, completed the preliminary design ahead of schedule and under budget.
Pictured is the conference room in Riyadh, Saudi Arabia, during the distributed program management review, including NESA faculty (from right to left) Matt Holbert (NESA Deputy Program Manager), Charles Marks (Associate Dean for Strategic Planning) and Dr. Wayne Clark (Associate Dean for Assessments). To Professor Marks's right are Dr. Abdullah al-Mojel from Ministry of Defense Transformation Management Office, Brigadier Hassan al-Malki, Director of the Strategic Implementation Office (SIO), and Brigadier Muteb al-Rasheedi, Operations Officer for the SIO.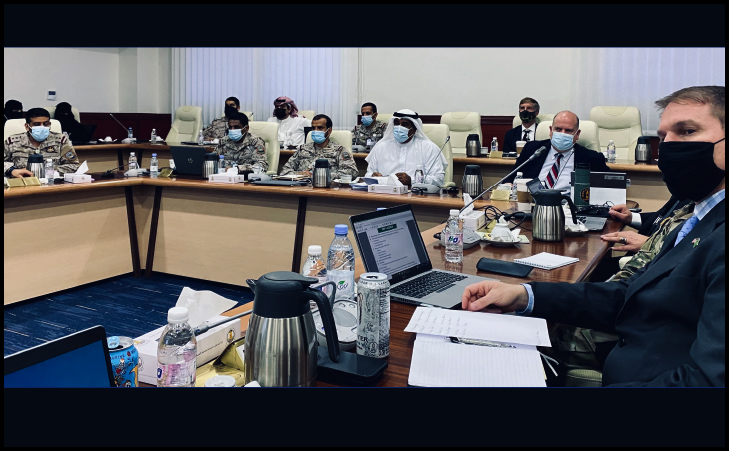 The views presented in this article are those of the speaker or author and do not necessarily represent the views of DoD or its components.