On 20 October 2021, the Near East South Asia Center for Strategic Studies (NESA) conducted the Maritime Security Coordination and Countertrafficking Operations Issues virtual workshop in partnership with US Africa Command, the William J. Perry Center for Hemispheric Defense Studies (WJPC), the George C. Marshall European Center for Security Studies (GCMC), and the European Institute of the Mediterranean (IEMed).  This was the fourth iteration of the "NESA-AFRICOM Transnational Threats" series of virtual workshops held throughout 2021. This "pilot" hybrid series is a spin-off of annual in-person/in-region workshops with NESA, AFRICOM, WJPC, and IEMed. The online workshops were expanded to include GCMC.
The first online workshop of the Transnational Threats series was held online on 28 January 2021; the second on 24 to 25 May on Migration; and the third program on Counterfeiting/Migration was held on 09 September.
While this program series continues to focus on Tier I Alumni from NESA-AFRICOM, WJPC, GCMC, and IEMed, the Maritime Security Workshop also extended invitations to NESA's Indian Ocean Region (IOR) community and to a number of individual African participants based on AFRICOM Desk Officers' recommendations. Professor Anne Moisan, with support from Mr. Fahad Malaikah, conducted/moderated the workshop. AFRICOM's Maritime, Drug Enforcement Administration, and Homeland Security experts, CDR Kevin Duffy, Mr. Kyle Burns and Mr. Daniel Baldwin provided presentations, which were followed by a robust open discussion. Twenty-seven participants from 15 countries were in attendance.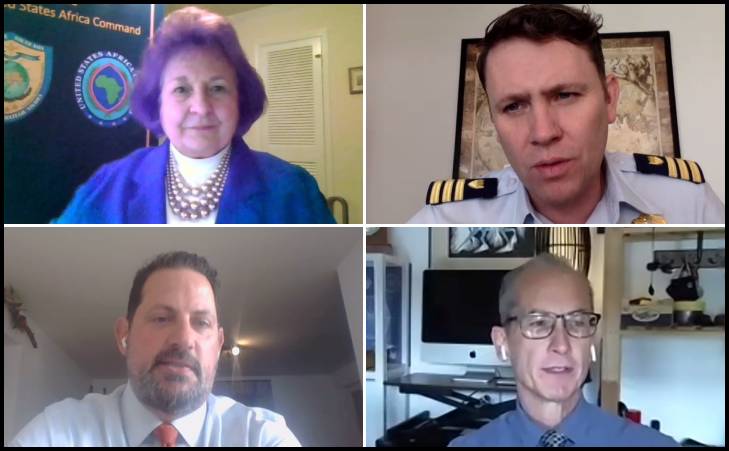 The views presented in this article are those of the speaker or author and do not necessarily represent the views of DoD or its components.