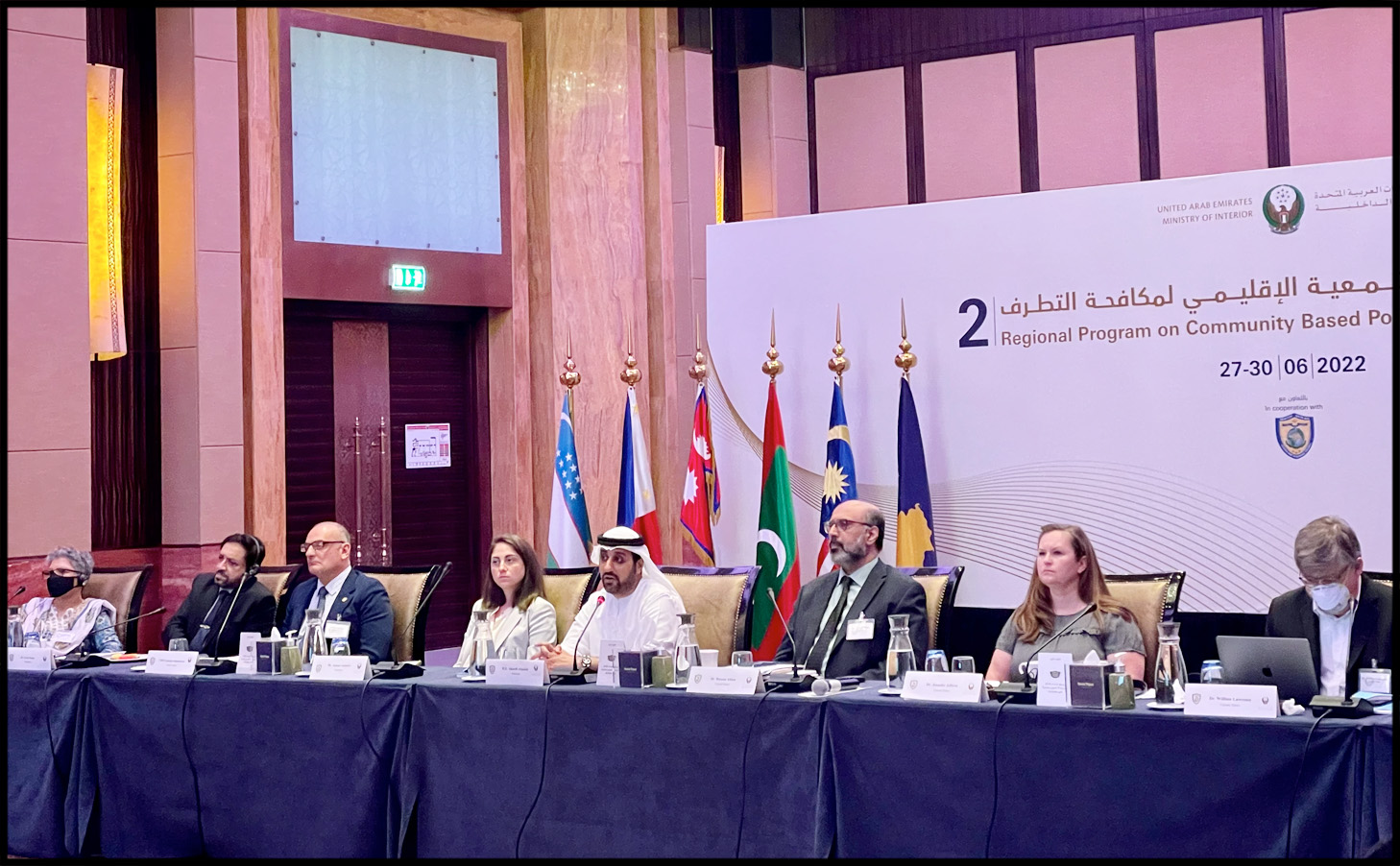 From 27–30 June 2022, the NESA Center for Strategic Studies hosted a seminar organized in collaboration with the United Arab Emirates (UAE) Ministry of Interior titled "Community Oriented Policing and Countering Violent Extremism" in Abu Dhabi, UAE. The workshop was designed to help participants evaluate and analyze the nature and dynamics of major community policing challenges, especially in the realm of violent extremism, and deliberate on building counter-narratives to extremism. Welcome remarks from NESA Center Academic Dean Dr. Roger Kangas, Course Director and NESA Center Distinguished Professor of International Relations Dr. Hassan Abbas, and NESA Center Deputy Director COL (Ret.) David Lamm followed by a welcome by Director General of the International Affairs Bureau UAE Ministry of Interior Lt. Colonel Dana Humaid Ai Marzouqi.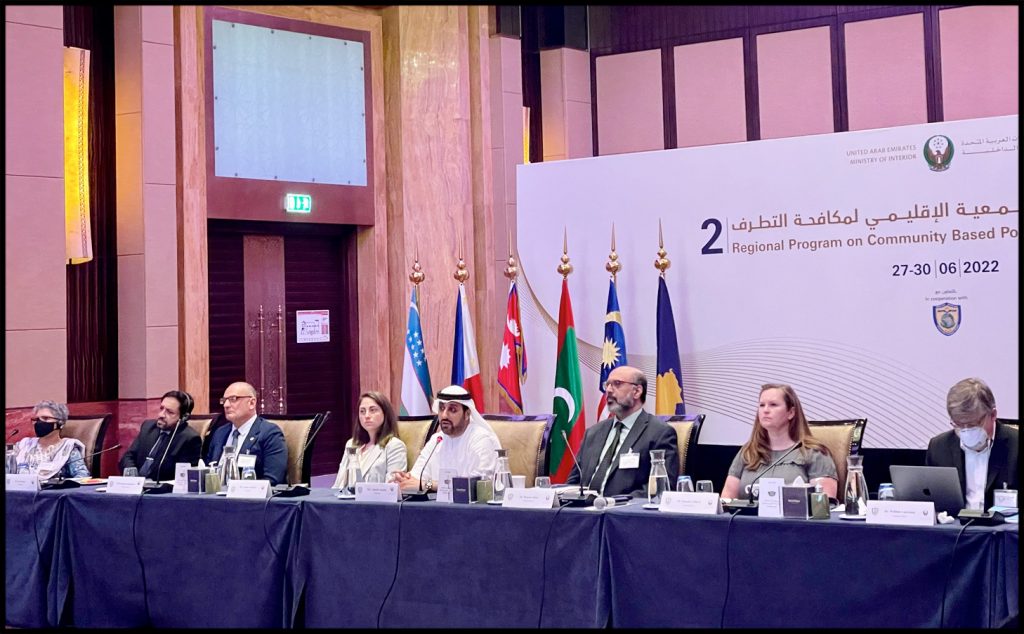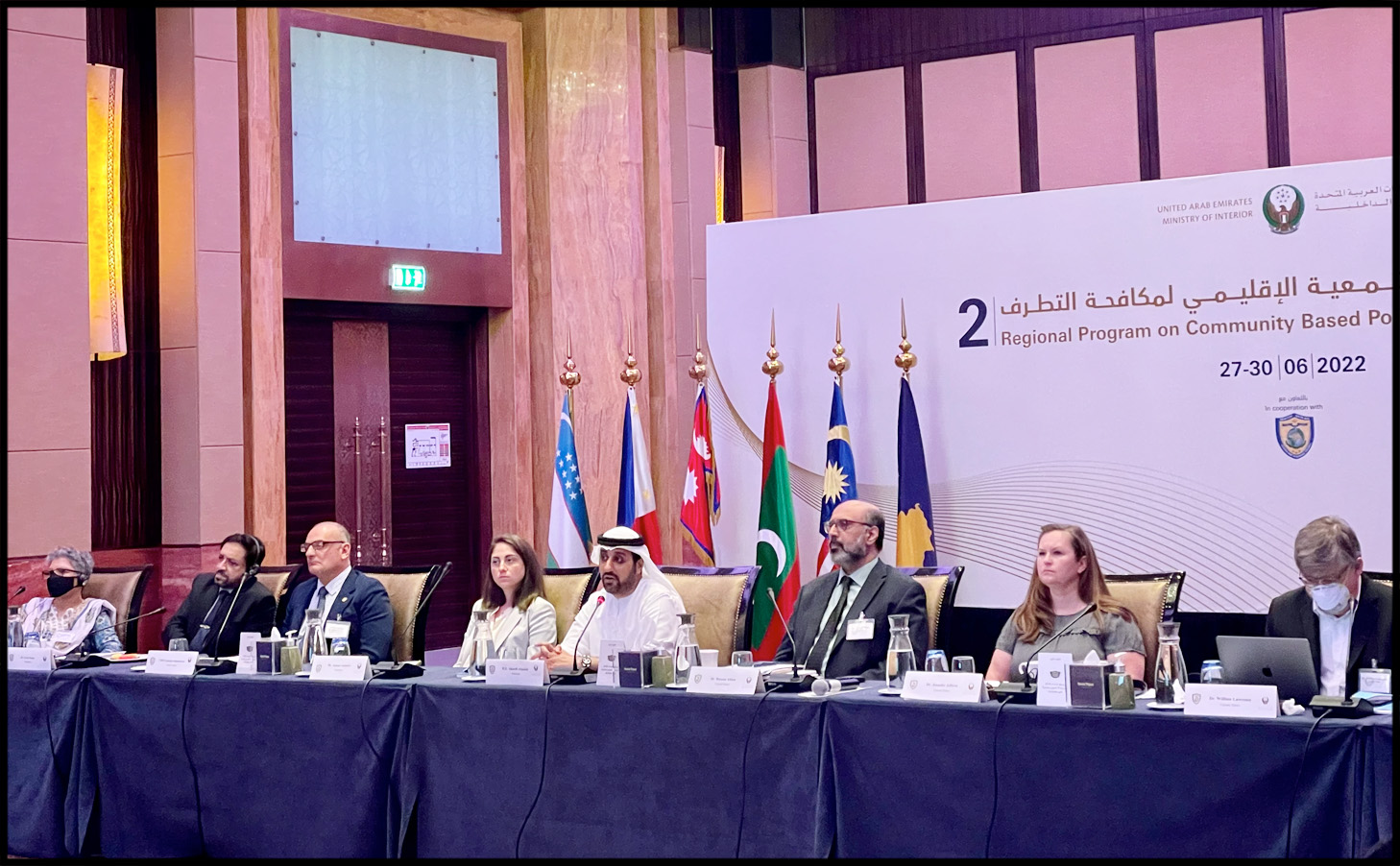 The ten sessions focused on the scope and challenges of community policing, effective strategies of countering violent extremism, best practices, and what is to be done. Various case studies from South Asia were also presented to dig deeper into topics. Former Inspector-General of Police (Pakistan) Kaleem Imam, former Police Chief Inspector (UK) Jane Townsley, Chief Superintendent of Police (UK) Ellie Bird, and former Police officer (Northern Ireland) Gary White gave presentations on the Scope and Dynamics of Community Policing. American University's Dr. William Lawrence, NESA Center Adjunct Professor Jennifer Jefferis, and the Hedayah Team led by their Executive Director Ahmed Al-Qasimi discussed the Dynamics and Strategies of Countering Violent Extremism. NESA Center Distinguished Professor Ali Jalali, Ellie Bird, USN CDR Gennaro Buonocore, and Rana Safvi (India) reviewed the Best Practices for Training. Dr. Zora Sukabdi (Indonesia) and Fahad Kazmi (Pakistan) led the final session on the topic of Deradicalization, Interfaith Harmony, and Peacebuilding. The seminar was attended by two or three participants from each of the following 12 countries, namely, Bahrain, Indonesia, Iraq, Israel, Jordan, Kosovo, Malaysia, Maldives, Nepal, Philippines, UAE, and Uzbekistan.
Reference the last Community Oriented Policing and Countering Violent Extremism Seminar hosted from 14–18 November 2021. https://nesa-center.org/community-oriented-policing-countering-violent-extremism/
The views presented in this article are those of the speaker or author and do not necessarily represent the views of DoD or its components.