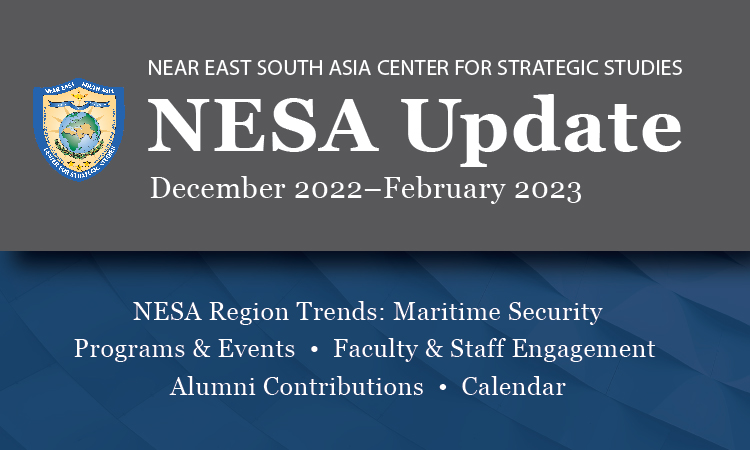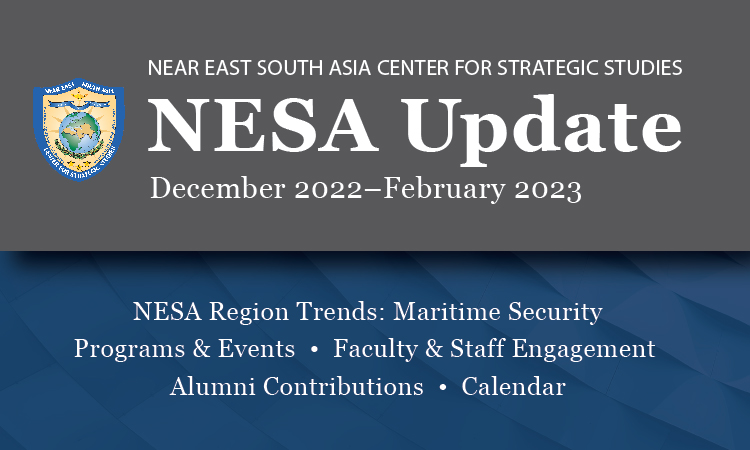 View the NESA Center December 2022–February 2023 Update focused on Near East South Asia Region Trends regarding maritime security. The update also highlights December 2022 through February 2023 NESA Center programs & events, faculty & staff engagements, alumni contributions, and a calendar with upcoming events.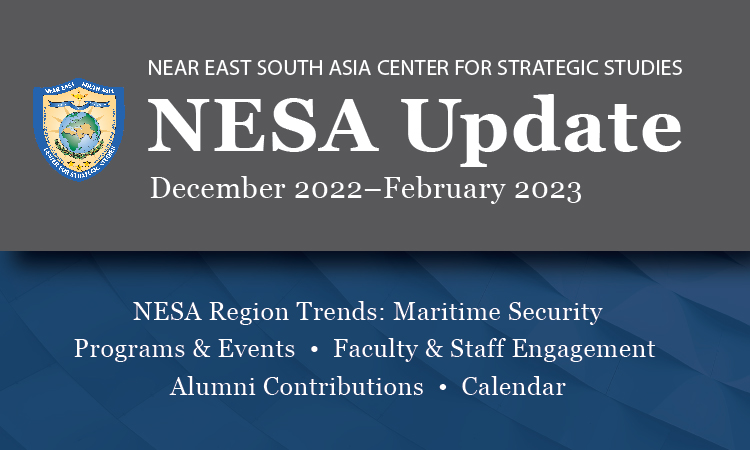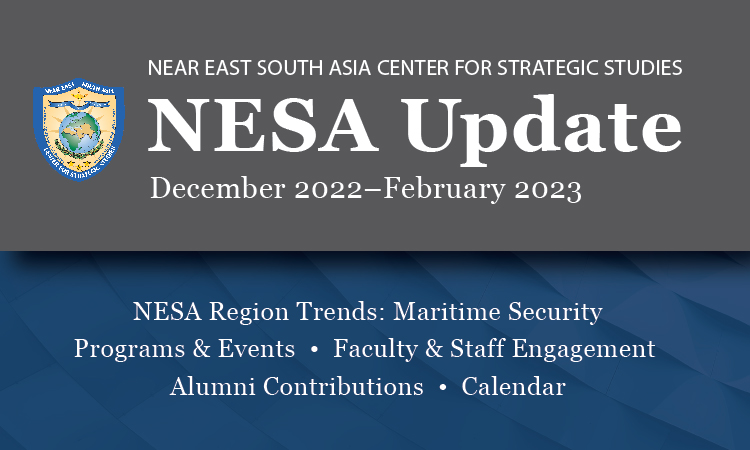 December 2022–February 2023 Maritime Security Trends:
NESA regional states are becoming more invested in countering maritime-based international criminality. Whether illegal fishing operations, smuggling, or trafficking, the region is ready to act. Yet, there remain divides as to methodology—is the aim elimination of criminal enterprises or mitigation? Is a multi-domain approach (land/air/sea) or a political-oriented approach (diplomacy/policymaking) best?
Regional states are recognizing the importance of maritime domain awareness. More regional institutions are discussing information sharing, technological advancement, and cooperative methodologies to gain more information regarding the state of regional waters. The next steps are the implementation of policy ideas generated by regional conversations.
Gray zone threats remain an ever-present challenge in the NESA region, with particular intensity in the Arabian Sea, Gulf of Aden, and the Persian Gulf. Gray zone methods continue to threaten interstate commerce, regional security architecture and hassle maritime operations of legitimate regional actors. These problems, often associated with Iran, are encouraging regional adaptation. Regional policymakers are turning eyes towards regional waters more frequently, new experiments are being pursued to assist in countering gray zone threats (such as NAVCENT's Task Force 59), and progression in information sharing among regional states looks to intensify.
Regional interest in the security of the Red Sea is rising among regional states. Given the logistical disruptions experienced during COVID-19, the Ever Given blockage of the Suez, and consistent smuggling in the Red Sea, regional states are intensifying conversations about how to better secure those waters. Combined Maritime Forces out of Bahrain have stood up a new Task Force focused on the Red Sea and regional institutions are moving forward on ways to enhance coordinated maritime law enforcement.
While local states recognize emerging and non-traditional threats, countries in the region continue to configure their navies and coast guards for conventional threats. They look to developments such as Task Force 59 as something they may build on if the U.S. meets it with success, but meanwhile, continue to invest in traditional navies for conventional conflict. The most recent example is the Qatar purchase of Fincantieri cruisers, which are in missile defense mode and do not have wet docks to launch small boats. The awareness is increasing, but the force structure and the spending remain—unchanged.
Read the full NESA Update report [PDF]
Read other NESA Center reports here.
The views presented in this article are those of the speaker or author and do not necessarily represent the views of DoD or its components.