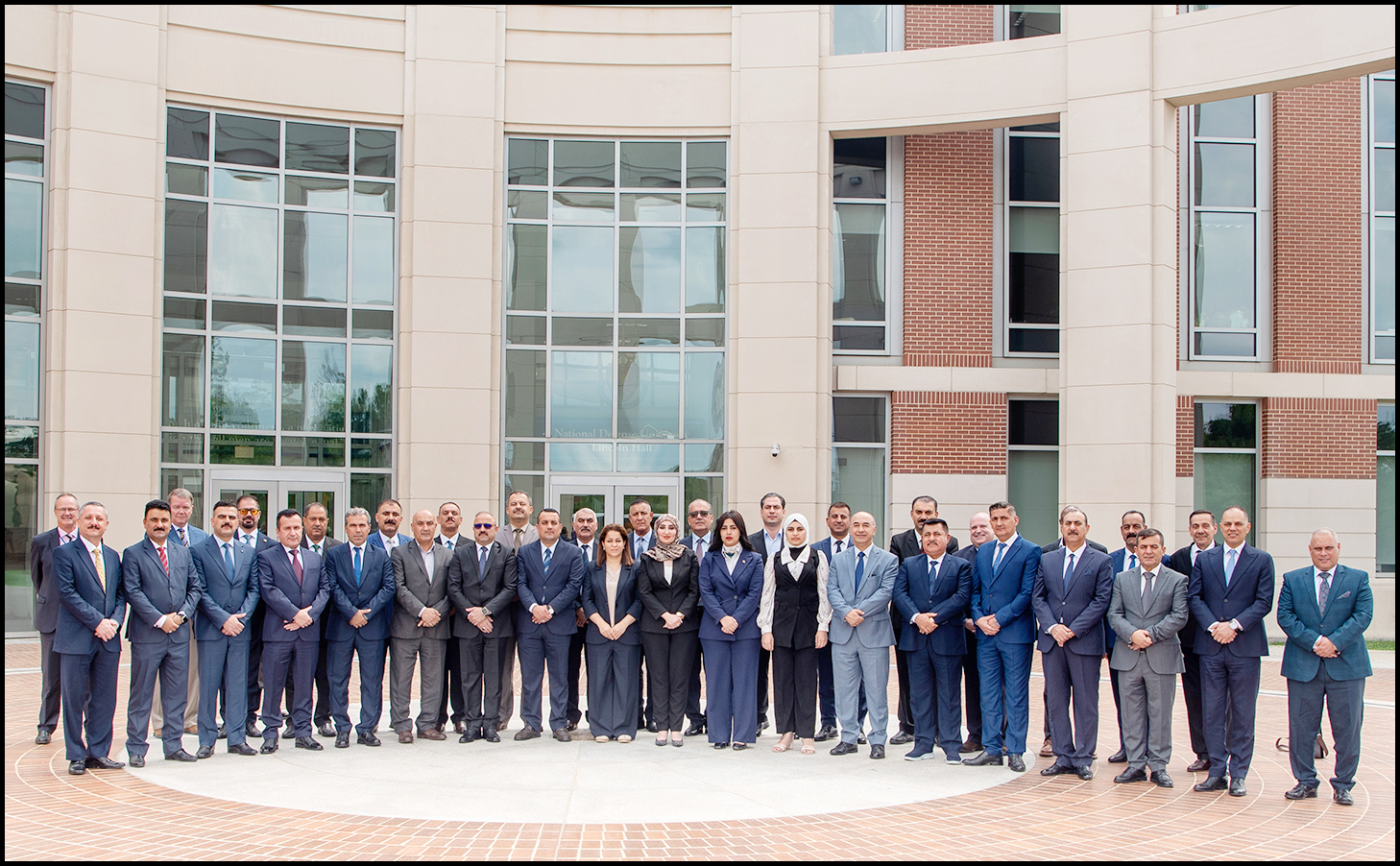 From 7–18 August 2023, the Near East South Asia Center for Strategic Studies (NESA) hosted a delegation of 32 senior Iraqi military officers and government officials for a two-week Iraqi General Officer Capstone Seminar in Washington, D.C. The Seminar, modeled on the U.S. Capstone Program, was designed to prepare Senior Leaders for the unique challenges they will face in developing strategy and proposing policy for their nation.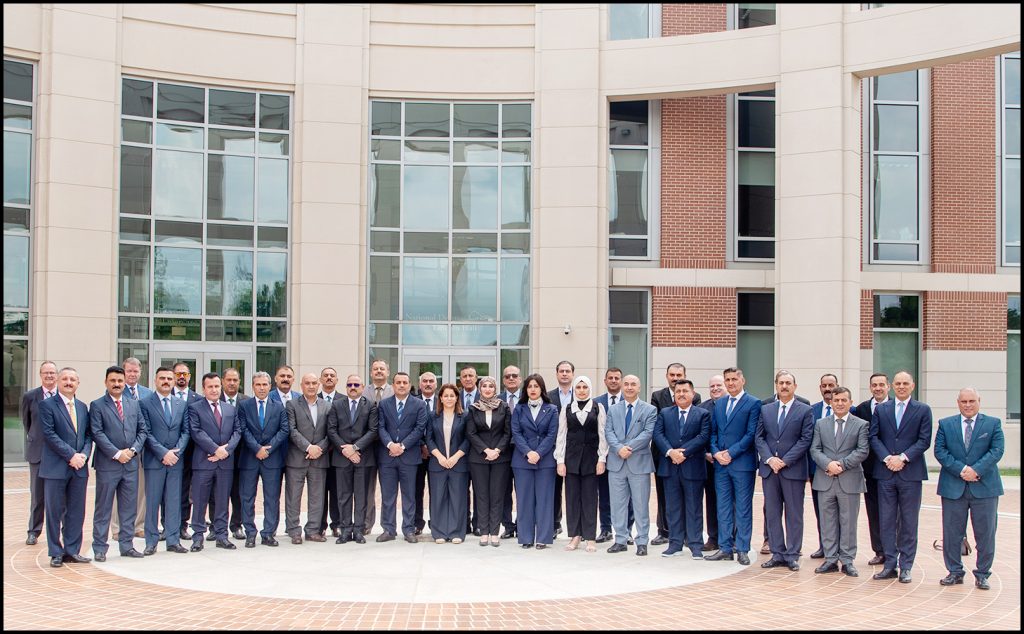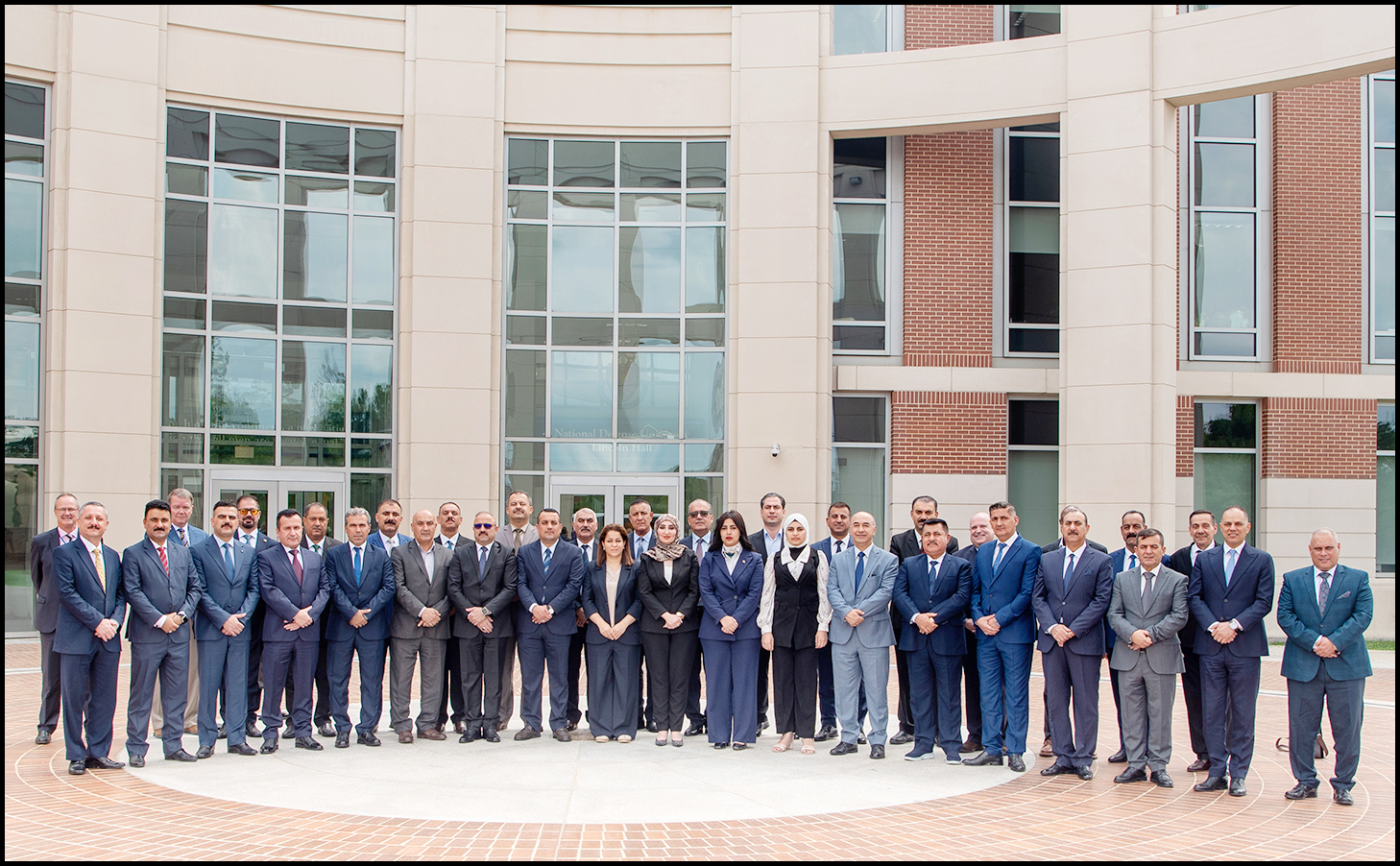 Course Directors, NESA Center Professor Richard Wiersema and NESA Center Associate Dean Charles Marks focused on 18 sessions during the first week and a week-long Strategic Simulation exercise at the National Defense University's Center for Applied Strategic Learning (CASL) during the second week. In addition to experienced academics from within NESA, a number of highly regarded and influential external speakers presented and facilitated valuable discussion with the delegates. These included Dr. Karen Young, Senior Fellow at the Middle East Institute; Associate Professor James Turner of the Eisenhower School; Thomas Wingfield and Dr. Michelle Grisé, Senior Defense and Policy Researchers from the Rand Corporation; David Schenker, Taube Senior Fellow at the Washington Institute; Ambassador Douglas Silliman, President of the Arab Gulf States Institute in Washington; and Dr. Michael Bell, Executive Director of the Jenny Craig Institute for the Study of War and Democracy at the National World War II Museum. 
The program included a visit to the United States Marine Corps National Museum at Quantico where, through docent-led tours, they learned about the Corps' illustrious history and were particularly interested in the Iraq War exhibits. The last week of the program included a tabletop exercise to allow delegates to confirm and demonstrate the skills and knowledge they had assimilated through the program. The Seminar concluded with a Graduation Ceremony presided over by NESA Center Acting Director, COL David Lamm, USA (Ret.). 
Established in 2000 when the Department of Defense (DoD) recognized the need for an organization dedicated to the challenging region extending from North Africa, across the Arabian Peninsula, and into South Asia, the NESA Center today is the pre-eminent DoD institution for building relationships and understanding in the region. The NESA Center supports security cooperation efforts of the United States Combatant Commands and the alumni network consists of just over 13,000 security professionals from 137 nations. 
For media queries, contact NESA's Media and Communications Department through the website contact form. For additional information about the NESA Center, visit NESA-center.org. 
Read about the previous Capstone Seminar from 23 August to 1 September 2022. 
The views presented in this article are those of the speaker or author and do not necessarily represent the views of DoD or its components.