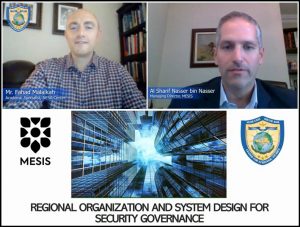 07 October 2020 – In the third edition of the NESA Alumni Virtual Interview Series, NESA's Fahad Malaikah hosts Al Sharif Nasser bin Nasser of the Hashemite Kingdom of Jordan, for a discussion on the system design and organizational culture challenges facing Middle East governments, particularly under the Covid-19 crisis. The pair further discussed whether the Covid-19 crisis has improved Middle East regional cooperation, and also how the United States can support the region to better address the organizational culture challenges of Middle East governments that can present obstacles to regional security governance.
Al Sharif Nasser bin Nasser is the Managing Director of the Amman-based, non-profit, non-government Middle East Scientific Institute for Security (MESIS) and a non-resident scholar at the Washington-based Middle East Institute (MEI).
The views presented in this article are those of the speaker or author and do not necessarily represent the views of DoD or its components.