On 25 May 2021, the NESA Center hosted an informative one-day Silk Road Future Leader's Seminar focused on the theme, "Strategic Leadership for Regional Security." The virtual seminar welcomed diplomats and military officers from NESA countries across Central Asia and South Asia, including Tajikistan, India, Nepal, and Kazakhstan. The Silk Road Future Leader's Seminar was facilitated by Professor Brianne Todd and featured the NESA Center Director LTG (ret) Terry Wolff, Academic Dean Dr. Roger Kangas, and Dr. Hassan Abbas.
The seminar consisted of two distinct sessions, with the first session covering U.S. relations with South and Central Asia under the Biden administration and the second session exploring COVID-19's impact on South and Central Asia.  The first session delved into emerging security considerations in the region and how bilateral interactions in the region will influence U.S. policy. NESA faculty discussed a wide array of topics, including the Biden administration's approach to human rights crises abroad, the roles of Russia and Iran in U.S. policy toward the NESA region, and the growing importance of addressing global cyber security threats.  The second session provided a general overview of the COVID-19 pandemic in Central Asia and South Asia, including information on the second wave in India.  Participants provided their insights on vaccine distribution and the state of healthcare institutions in their respective countries.
The Silk Road Future Leader's Seminar was conducted in English with simultaneous interpretation available in Russian, and it was held under the Chatham House Rule ("off-the-record") to encourage open and frank discussion among faculty and participants.  Moreover, the virtual format of the Silk Road Future Leader's Seminar provided an opportunity to re-engage NESA alumni who had previously attended an iteration of the seminar in Washington, DC.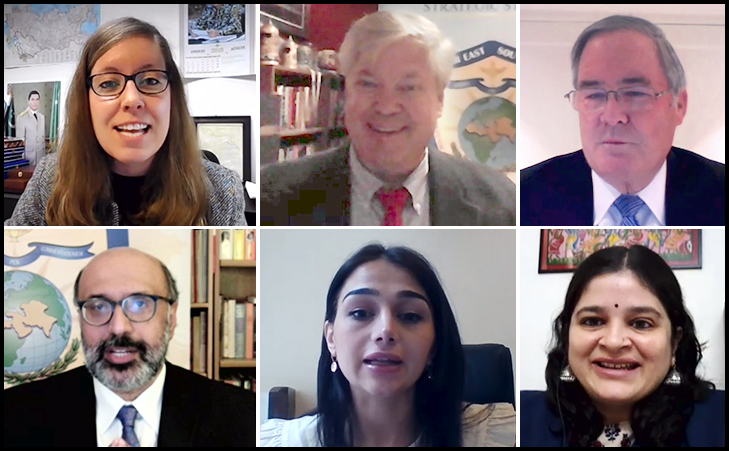 The views presented in this article are those of the speaker or author and do not necessarily represent the views of DoD or its components.