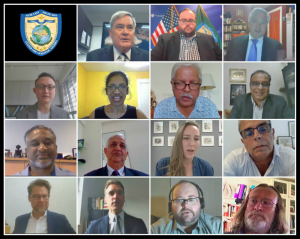 From 17-20 August 2020, the NESA Center conducted the Indian Ocean Region (IOR) Green Water Workshop.  Over 70 participants hailing from all areas within the Indian Ocean Region took part in this digital workshop and represented regional navies, regional coast guard and maritime law enforcement, think tanks and research institutions, and diplomatic services.
Topics of discussion included how to address both traditional and non-traditional maritime security challenges, mechanisms for enhancing information-sharing among regional states, the effects of the Covid-19 pandemic, the impact of geopolitics throughout the region's waters, and what trend lines can be expected in the future.
This program serves as a prominent part of NESA's ongoing programming relating to the maritime space and the Indian Ocean Region in particular.  The program concluded with recommendations for future maritime-focused programs and NESA looks forward to working with our regional partners on such topics in the coming months.
Read the Final Report of the IOR Green Water Workshop here.
The views presented in this article are those of the speaker or author and do not necessarily represent the views of DoD or its components.