On March 24–25, 2021 – The NESA Center in partnership with US Africa Command held its tenth annual Tunisian National Defense Institute (NDI) National Security Seminar for 45 senior government officials from 14 Tunisian agencies. The NDI led by the Director, Commodore Faouzi Zaiem, is a year-long Ministry of Defense program. It's now in its 38th year bringing a diverse group of interagency representatives together twice each week for an academic year to advance whole-of-government approaches to critical national security and political challenges. Each class is assigned a unique research theme by the Minister of Defense. This year's assignment was entitled "Brain Drain and Economic Opportunities." This is the 10th year in the NESA-AFRICOM partnership with the Tunisian National Defense Institute.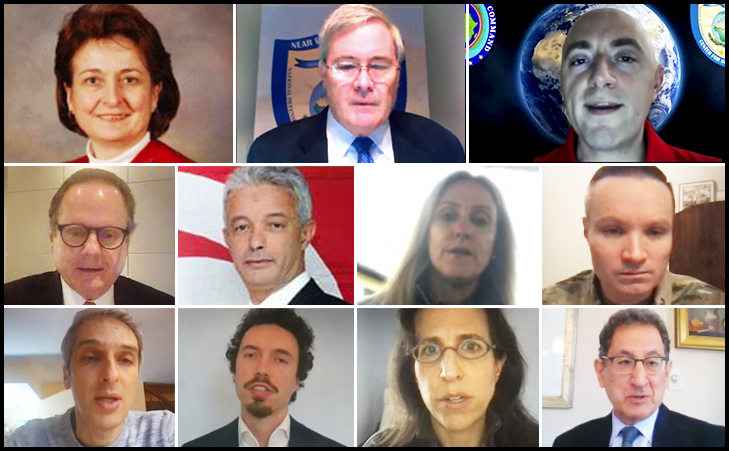 Normally a seven-day in-person security seminar in Washington DC, but due to Covid-19, NESA was forced to conduct its first-ever hybrid, truncated on-line program with the Tunisian NDI. Led by NESA Professor Anne Moisan and supported by Mr. Fahad Malaikah, the seminar was centered on assisting the participants in their assigned research and better equip them as Tunisia continues its democratic transition. This year's focus was on how best to positively leverage the migration of talented Tunisian youth from Tunisia.
"This year's focus was on how best to positively leverage the migration of talented Tunisian youth from Tunisia."
Sessions focused on long-term global trends, insights on possible Biden Administration foreign policy direction, future AFRICOM engagements, as well as on specific information pertinent to the class's assigned theme. To that end, participants received prerecorded video presentations from ten speakers to review in advance of the online sessions. For the on-line sessions, Professor Moisan brought in all the speakers in panels for a more focused series of short presentations based on questions provided in advance by the NDI auditors. Presentations were  provided by Dr. Michael Brown, Professor at George Washington University on "Global Trends";  LTG (ret) Terry Wolff, Director of NESA on "The Biden Administration: Director's Insights"; His Excellency Ambassador Najmedine Lakhal, Ambassador of the Republic of Tunisia to the US on "Tunisia-US Relations, New Approach for Brain Gain"; Ms. Elizabeth Tomko, Tunisia and Libya Desk Officer, USAFRICOM on "AFRICOM: The Way Ahead"; and MAJOR William Lindmier, Deputy CFMO, Wyoming National Guard on "Wyoming National Guard and Tunisia State Partnership." The seminar concluded with a final panel focused on "The Brain Drain and Economic Opportunities" with Mr. Mohamed Malouche, Board Chairman, Tunisian American Young Professionals (TAYP); Ms. Ronit Avni, Founder & CEO of Localized; Mr. Manuel Langendorf, Independent Consultant/Researcher on Digital Transformation, Deutsche Gesellschaft für Internationale Zusammenarbeit (GIZ); and Mr. Jean AbiNader, AbiNader Advisory Services.
The on-line security seminar culminated Phase II/II of the FY 2021 NESA-AFRICOM program with this year's NDI class.
The views presented in this article are those of the speaker or author and do not necessarily represent the views of DoD or its components.