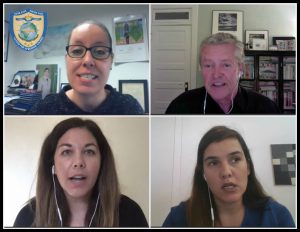 The NESA Center hosted a virtual Washington Seminar discussion titled "Making Sense of the U.S. Media Landscape in 2020" on 9 July, 2020. The event featured a panel discussion, followed by a question-and-answer session, with NPR Pentagon reporter Tom Bowman, Northwestern Professor Stephanie Edgerly, and Pew Research Director Katerina Matza. The event was attended by select officials from NESA partner country embassies and regionally adjacent countries. In the discussion, each panelist provided their personal insight on the current media landscape. The experts primarily emphasized the destructive impact of social media and increased partisanship on Americans' consumption of information and the legitimacy of popular news sources. The reporters and researchers also recounted their difficult experiences working to address patterns of disinformation amidst a growing culture of mistrust towards traditional news outlets and academia.
Participants sought further guidance in addressing party polarization and determining the legitimacy of news sources. In response, panelists stressed the importance of supporting diverse and legitimate news outlets and perspectives. Furthermore, they provided a number of websites and tools available to improve media consumption habits.
The Washington Seminar discussion series is a flagship NESA Center program designed to provide senior diplomatic officials from the NESA region and U.S. partner countries with a forum for candid and substantive discussion on issues of critical importance to national and regional security. The not-for-attribution discussion was moderated by Brianne Todd.
The views presented in this article are those of the speaker or author and do not necessarily represent the views of DoD or its components.