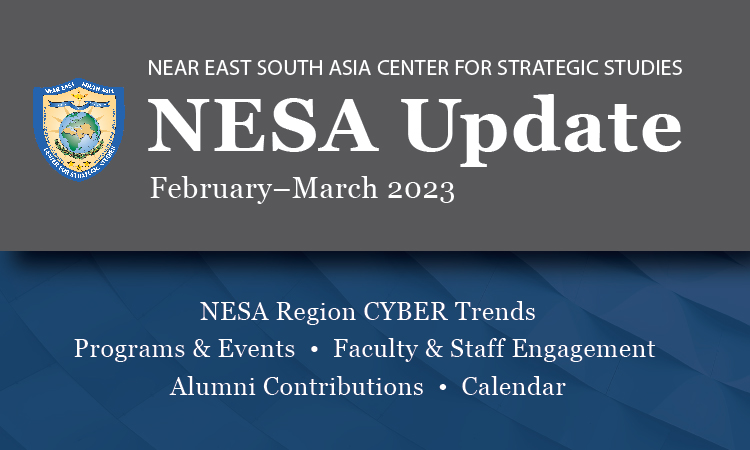 View the NESA Center February–March 2023 Update focused on cyber Near East South Asia Region trends. The update also highlights February through March 2023 NESA Center programs and events, faculty and staff engagements, alumni contributions, and a calendar with upcoming events.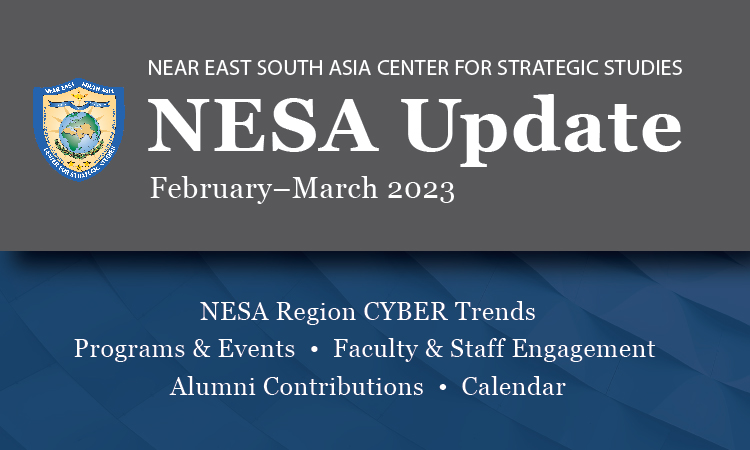 February – March 2023 Cyber Trends:
Pakistan continues to be in the eye of the storm with a political and judicial crisis that further exacerbates the severe economic challenge the country faces. Pakistan's social and electronic media depicts political polarization that has now extended to the supreme court of Pakistan where various court judgments apparently support different political forces in the country. The primary contentious issue now revolves around the election date in coming months. The current government is allegedly delaying the national and provincial elections against the constitutional provisions while the opposition leader and former prime minister, Imran Khan, continues to galvanize his supporters who are demanding immediate elections. 

Increased terrorist activity orchestrated by Tehrik-i-Taliban Pakistan (TTP), also known as Pakistani Taliban, who are resurgent and hyperactive since the return of Afghan Taliban to power the corridors of Kabul. The Pakistan-Afghanistan border areas are volatile since this development and Pakistan's national security council has recently (early April) vowed to confront the challenge head on. It is doubtful if a major military operation in Pakistan is in the works as TTP cells are dispersed in adjacent urban areas and many TTP militants are enjoying a sanctuary in Afghanistan under the reign of their old ally — the Afghan Taliban. Afghanistan's unwillingness to act against TTP has repeatedly raised tensions between Islamabad and Kabul. 

Iran and Israel keep confronting each other in different arenas, including the cyber domain. Almost every week, there are reports on cyber attacks in both countries. No side takes credit or responsibility for such attacks. Based on open sources, this virtual rivalry is certain to intensify.

In the last few months, several rivals have taken initiatives to contain or de-escalate their confrontations. The list includes the Iran-Saudi Arabia agreement, Turkey's warming relations with Saudi Arabia, UAE and Egypt, the re-integration of Syria in the Arab world, and the Abraham Accords. This significant wave of de-escalation has already started reducing tension in Yemen, Libya, and Lebanon. This wave of de-escalation is also likely to positively impact the cyber domain, meaning more cooperation and fewer cyber attacks.
Read the full NESA Update report [PDF]
Read other NESA Center reports here.
The views presented in this article are those of the speaker or author and do not necessarily represent the views of DoD or its components.