From 28 to 30 July, the Near East South Asia (NESA) Center for Strategic Studies hosted a Strategic Survey webinar on "Iran and Middle East Security." The webinar—which featured numerous internationally-recognized scholar-practitioners—was intended for both American and foreign military officers and civilians working in U.S. Central Command and U.S. Special Operations Command.
The daily topics covered were "Iran's Politics, Economics and Societal Pressures"; "Iran's Foreign Policy in the Middle East and Rivalry with Saudi Arabia"; and "Iran's Conflicts with the Arab Gulf States, Israel and the United States".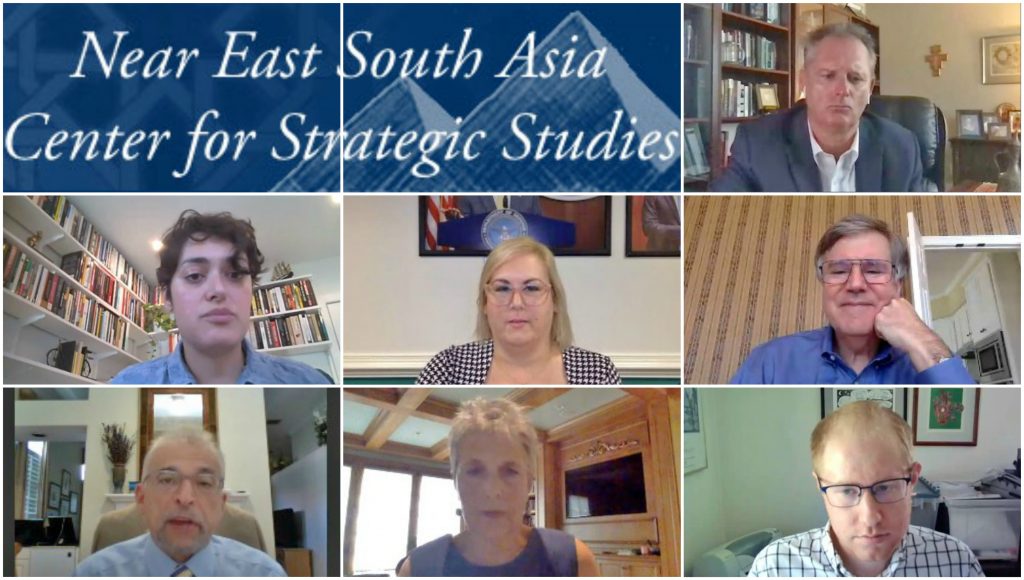 Moderated by NESA Professor Richard Russell, speakers included (clockwise from mid-left box) Dr. Ariane Tabatabai, Middle East Fellow, The George Marshall Fund of the United States; Ms. Simone Ledeen, Deputy Assistant Secretary of Defense for the Middle East, Office of the Secretary of Defense; Dr. F. Gregory Gause, Department Head of International Affairs and Professor, Bush School, Texas A&M University; Dr. Mohsen Milani, Executive Director, Center for Strategic & Diplomatic Studies, University of South Florida; Prof. Ellen Laipson, Director, Center for Security Policy Studies, Schar School of Policy and Government, George Mason University. and Mr. Henry Rome, Senior Analyst, Eurasia Group.